John Kasich vs. Donald Trump: Candidates Spar Over Taxes in CNBC Republican Debate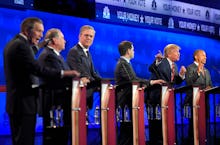 Ohio Gov. John Kasich had harsh words for Republican rivals Dr. Ben Carson and Donald Trump at the third GOP presidential primary debate on Wednesday, calling their tax plans a "fantasy" and mocking them for what he said was a series of unrealistic promises about their future presidencies.
"We are on the verge of picking someone that can't do the job," Kasich said of his competitors.
Kasich targeted both Carson and Trump's tax plans, saying they would blow trillion-dollar holes in the federal budget. He said that as governor, he had balanced the state budget and cut taxes without compromising the financial future of Ohio.
"'I have a 10% tithe, and that's how we're gonna fund the government?'" Kasich said, mocking Carson's plan. "And we're just going to fix everything with waste, fraud and abuse? Or that we're just gonna be great? Or that we're gonna ship 10 million Americans, or 10 million people, out of this country, leaving their children here in this country and diving families?"
"Folks, we gotta wake up!" he continued. "We cannot elect somebody that does not know how to do the job! You gotta pick somebody who has experience, somebody who has the know-how, the discipline, and I spent my entire lifetime balancing federal budgets, growing jobs, the same in Ohio, and I will go back to Washington with my plan to the Senate within 100 days, and it will pass."
Trump responded by mocking Kasich's poll numbers and previous promises not to launch attacks on fellow Republicans, as well as citing Kasich's membership on the board of Lehman Brothers, whose collapse in 2008 helped melt down the economy.
"That's why he's on the end," Trump said to chuckles from the crowd.