Jeb Bush Told Marco Rubio to Resign Over Missing Senate Votes — And Rubio Fired Back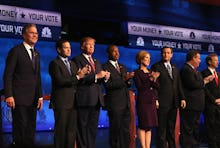 Former Florida Gov. Jeb Bush lectured his former pupil Sen. Marco Rubio (Fla.) during a tense exchange at the third Republican debate on CNBC over Rubio's recent absences from a series of votes in the Senate. 
On Wednesday, the editorial board of the Sun-Sentinel, one of the state's largest newspapers, called on Rubio to give up his seat because of chronic truancy.
Rubio was asked about the editorial and claimed that the paper was politically biased, pointing out that the Sentinel had looked the other way when Democratic senators had missed votes while running for president. Bush wasn't having it and saw an opportunity to go after Rubio.
"You can campaign or just resign and let someone else take the job," Bush said, taking the paper's message to Rubio's face. 
But the protégé — Rubio was an up-and-comer in the Florida statehouse when Bush was governor — gave it back to Bush, calling him a hypocrite then suggesting the criticism was desperate and cynical. 
"The only reason why that you're doing it now," Rubio responded, "is because we're running for the same position and someone has convinced you that attacking me is going to help you." 
The crowd began whooping before Bush could gather a response, allowing Rubio to skate off without taking a return jab. Despite setting up a Twitter account for the express purpose of mocking Rubio's absenteeism, the pro-Bush super PAC Right to Rise has been mostly quiet.
Watch this "generational clash" unfold on the debate stage in Boulder, Colorado, right here: