Who Is Tom Perkins? Here's Carly Fiorina Supporter's Absurd Plan to Give Rich More Votes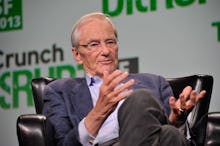 During the third Republican presidential debate on Wednesday, former CEO of Hewlett Packard Carly Fiorina mentioned Tom Perkins in response to a question about her tenure at the tech company, a position she was fired from in 2005. Perkins, who was on the board that voted to remove Fiorina from her post, is a venture capitalist and a strong supporter of Fiorina — and also thinks wealthy people should have more voting power than the less fortunate. 
"The Tom Perkins system is: You don't get to vote unless you pay a dollar of taxes,"  Perkins said at a 2014 San Francisco engagement at the Commonwealth Club. 
He went one step further, saying the number of votes a person gets should increase with their income. "But what I really think is, it should be like a corporation," Perkins said. "You pay a million dollars in taxes, you get a million votes. How's that?"
His proposal earned laughter from the audience, CNN reports, but Perkins was quite serious. 
In an earlier 2014 letter to the Wall Street Journal, Perkins compared the so-called "war on the 'one percent'" to events that preceded the Holocaust. "Writing from the epicenter of progressive thought...I would call attention to the parallels of fascist Nazi Germany to its war on its 'one percent,' namely its Jews, to the progressive war on the American one percent, namely the 'rich,'" he wrote in the letter.