Ben Carson Defends Stance on Gay Marriage at CNBC Republican Debate, Twitter Responds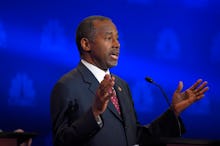 When former neurosurgeon Ben Carson was pressed about his stance on gay marriage during Wednesday's Republican debate in Colorado, he argued that not supporting same-sex marriage doesn't make him a homophobe but said he defined marriage as between a man and a woman.
"Well obviously you don't understand my views on homosexuality," Carson said. "I believe that our Constitution protects everybody. I also believe that marriage is between one man and one woman." 
"This is one of the myths that the left perpetrates on our society...the fact of the matter is, we the American people are not each other's enemies," he said, adding that it "shouldn't be assumed" that someone is a "homophobe" because they believe marriage should be between a man and woman. Carson served on the board of Costco, an LGBT-friendly company.
Carson's stance on gay marriage resonated with some social media users, while others criticized it.
After the Supreme Court made same-sex marriage the law of the land in June, Carson pushed back but said that was the new reality. "While I strongly disagree with the Supreme Court's decision, their ruling is now the law of the land," Carson said.