Ben Carson Lied About His Ties to a Shady Dietary Supplement Company at Third GOP Debate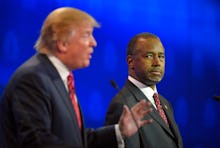 During the third Republican presidential primary debate on Wednesday night, CNBC moderator Carl Quintanilla asked Dr. Ben Carson, who leads several state and national polls, about his ties to a dietary supplement company called Mannatech.
"There is a company called Mannatech, a maker of nutritional supplements, with which you had a 10-year relationship," Quintanilla asked. "They offered claims that they could cure autism, cancer. They paid $7 million to settle a deceptive marketing lawsuit in Texas. And yet your involvement continued. Why?"
"Well, that's easy to answer," Carson responded. "I didn't have an involvement with them. That is total propaganda. And that is what happens in our society. Total propaganda. I did a couple speeches for them, I do speeches for other people, they were paid speeches. It is absolutely absurd to say that I had any kind of relationship with them."
Carson's definition of "relationship" apparently differs from the commonly accepted usage.
"Do I take the product? Yes," he added. "I think it's a good product."
Quintanilla shot back, saying that a photo of Carson had appeared on the Mannatech website with the company's logo visible on it.
"If somebody put me on their homepage, they did it without my permission," Carson responded.
The moderator asked him whether his ties to the company suggested a lapse in the doctor's judgment.
"It speaks to the fact that I don't know the..." Carson said before being cut off by massive boos directed at Quintanilla. "See, they know," the candidate said, grinning.
The whole response was, to put it bluntly, a blatant lie on Carson's part. Carson's involvement with the company wasn't limited to pep talks for Mannatech employees: He acted as a paid spokesperson who endorsed the company's health claims.
In a 2004 video recently unearthed by the Wall Street Journal, Carson partially credited the disappearance of his prostate-cancer diagnosis to the kind of dietary supplements that Mannatech sells, which the Wall Street Journal pointed out are made of "substances such as larch-tree bark and aloe vera extract."
"Within about three weeks my symptoms went away, and I was really quite amazed," Carson says in the video.
Evidence surrounding the benefits of nutritional supplements for treating cancer symptoms is inconclusive, at best. Regardless of the medical details, Carson's relationship with the company was much more extensive than he led debate viewers to believe.
The Texas attorney general's office sued Mannatech in 2007 for false advertising and illegally promoting its products as miracle cures for "Down syndrome, cystic fibrosis, autism, cancer, and other serious ills" — a case it settled in 2009 for $7 million, according to the Wall Street Journal. Carson continued to appear in the company's videos until 2013, when Carson filmed a "commercial-style" video saying Mannatech was "trying to find a way to restore the natural diet as a medicine, or as a mechanism for maintaining health," reports the Wall Street Journal. 
The doctor also promoted direct sales positions selling Mannatech's products door-to-door and boasted of a relationship with "Dr. Reg," one of Mannatech's product developers.
Finally, the Wall Street Journal reported that Carson gave four speeches in total during Mannatech meetings, "most recently one in 2013 for which he was paid $42,000."
Whether or not Mannatech's products work is highly suspect. Either way, Carson deliberately misrepresented his business relationship with the company to give the impression he was never tied to it. He lied to the debate audience. That alone is a lapse in judgment, but not the only one voters should be worried about.
Correction: Oct. 29, 2015