Flogged and Imprisoned Saudi Blogger Raif Badawi Just Won the Sakharov Human Rights Prize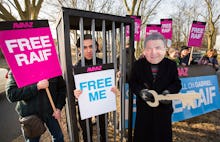 The European Union just conferred their prestigious human rights award, the Sakharov Prize for Freedom of Thought, on 31-year-old Saudi Blogger Raif Badawi, which will be announced officially Thursday at the European Parliament in Strasbourg, France.
Badawi was arrested in June 2012, fined over $260,000 and sentenced by the Saudi government to 1,000 lashings and 10 years in prison for insulting Islam, after co-creating the Saudi Liberal Network in 2008, an online forum for discussing political and religious issues.
"The first 50 lashes were administered before hundreds of spectators on 9 January, 2015," according to the Sakharov Prize website. "Subsequent sets have been postponed in the face of international condemnation and Badawi's dire state of health." His family — a wife and three children — have been forced to flee to Canada because of death threats. 
Saudi King Salman was publicly beseeched by European Parliament President Martin Schulz "to free [Badawi], so he can accept the prize," the BBC reports.
In his blog, Badawi openly discussed the tenets of human rights — think protecting pluralism and secularism — and his concern that Saudi Arabia was violating them. 
"As soon as a thinker starts to reveal his ideas, you will find hundreds of fatwas that accused him of being an infidel just because he had the courage to discuss some sacred topics," Badawi wrote in August 2010. "I'm really worried that Arab thinkers will migrate in search of fresh air and to escape the sword of the religious authorities."
The following month, Badawi explicitly addressed Saudi Arabia's draconian religious rule: "Secularism respects everyone and does not offend anyone ... Secularism ... is the practical solution ... to lift countries (including ours) out of the third world and into the first world."