Kendrick Lamar Surprises Fans with a Hilariously Absurd Video for "These Walls"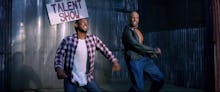 Kendrick Lamar is best known for his high-minded meditations on race, spirituality and death. Yet his music has a comedic side too. His latest album To Pimp a Butterfly reminds us of this in several of the skits, or in the free jazz meditation on the price of a famous rapper's dick in "For Free?" 
Few of the album's videos have really captured that humor, save his most recent clip for "These Walls," subtitled "A Black Comedy," which Lamar released as a surprise Wednesday.
It's by far Lamar's most comedic visual jaunt yet, turning up the party settings of his previous "King Kunta" and "i" to unreached levels of absurdity. It features an extended Terry Crews dance interlude and wisecracks from comedian Corey Holcomb. 
A Holcomb monologue sets up the scene from a jail cell explaining how he landed in prison: "It was Kendrick!" he says. "Yeah, Kendrick Lamar goddamnit! We had some strippers they let us do anything we wanted to do, touch anything we wanted to touch."
The video shows exactly what that looks like. Some of the shots are so ridiculous, they come off as parodies of the scenes that fill many hip-hop videos.
In a similar parody, Crews tries to maintain a certified gangsta toughness, boasting how he'll "kill these motherfuckers, get the money and get out." What ends up being is going in to win money while performing "Hit the Quan" during a local talent show.
In the end, what sent Holcomb to jail has little to do with Lamar at all. He rear ends a parked police car while driving drunk and gets dragged out of the party by the scruff of his neck. 
Interestingly, the video ends with a "To Be Continued" chyron. Lamar may have one more video to share off To Pimp a Butterfly before beginning to focus on to his next project. Whatever the case, the "These Walls" video only helps to underscore the staying power the multidimensional To Pimp a Butterfly has had so far.
Watch the full video below.