CNBC Presidential Debate Transcript: Here's The Full Text of Latest 2015 Republican Debate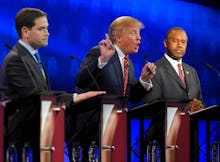 The CNBC-hosted Republican presidential debate was held Wednesday night at the University of Colorado Boulder(full transcript here), where the top ten highest-polling candidates took the stage and came out swinging — mostly at the media. It was also the third opportunity the GOP hopefuls had to square off with other leading candidates and try to gain the support of audiences nationwide. 
Although some questions were thwarted, and others were used to lambast left-leaning media, much was discussed last night. Ben Carson discussed his tax plan, Carly Fiorina defended her tenure as CEO of Hewlett-Packard and real estate magnate Donald Trump essentially guarded his position on just about everything else.
The debate's ten candidates included business magnate Donald Trump, retired neurosurgeon Ben Carson, Florida Sen. Marco Rubio, former Florida Gov. Jeb Bush, former Hewlett-Packard CEO Carly Fiorina, Texas Sen. Ted Cruz, former Arkansas Gov. Mike Huckabee, New Jersey Gov. Chris Christie, Ohio Gov. John Kasich and Kentucky Sen. Rand Paul.
Check out the full transcript from the CNBC "Your Money, Your Debate" third GOP presidential debate.