This Black Oregon Man Was Asked to Prepay His Restaurant Bill; White Customers Were Not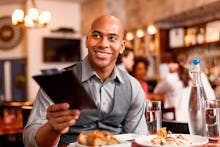 Don't forget to tip your server — beforehand might be preferable. 
An Elmer's restaurant in Vancouver, Washington, is facing a $100,000 lawsuit from Brian Eason, a black customer who says a server asked him to prepay for his breakfast. The server said a few people ran out on the bill recently, so they were asking people to prepay, which Eason then did. 
When Eason ordered a new drink, his server asked him to prepay again. 
"I said, 'This is kind of odd that I have to prepay every time I order my food and drink,'" Eason told the Oregonian. "She said, 'I think it's discrimination and my boss is here, and she's forcing me to have me do this.'" 
Eason, a sheriff's deputy and a realtor, had gone to the restaurant on Dec. 16, 2014, to find a quiet place to write Christmas cards for his clients. When he felt bad that the waitress was being pressured, he gave her one of the $10 Starbucks gift cards he was prepared to send to a client, as well as a big tip. 
Two white customers later told him they were not asked to prepay for their meals. 
In a statement to the Oregonian, Jill Ramos, Elmer's director of restaurant support, said, "At Elmer's, we are proud to provide a welcoming guest experience to everyone in the communities we serve. We are disappointed to hear about the complaint, which occurred at one of our franchise-operated restaurants." 
Eason told the Oregonian that he was hesitant to take action, but that his family encouraged him to move forward after he couldn't sleep at night. 
According to the lawsuit, Eason is suing for $100,000 for "loss of sleep and feelings of racial stigmatization." 
Dining out: According to scholarship on consumer racial profiling, restaurant discrimination is cyclical. One 2012 study surveyed 200 restaurant servers and found "substantial server negativity toward African-Americans' tipping and dining behaviors." A follow-up 2013 study called service industry racism "a systemic, industry-wide problem." 
A 2014 Cornell University study found that black patrons consistently rate their quality of service — promptness and attentiveness — lower than white patrons and consistently rate servers' performance less favorably. That perception of mistreatment can lead to giving a lower tip, which servers then begin to perceive as a tipping problem among all black patrons.
If a server has had a bad experience with a black customer, they are then more "likely to consciously withhold emotional and physical labor from such tables," the Cornell researchers wrote. 
Eason's case is not unique. In 2004, black customers won an $8.7 million lawsuit against Cracker Barrel after they claimed they had been automatically seated in the smoking section and denied service. In 1994, Denny's paid $54 million to black customers who reported being refused service or having to wait in longer lines than white customers. 
For now, Eason just has to deal with seeing the restaurant every day. 
"My office is right down the street there," Eason told the Oregonian. "It's a constant reminder of 'They don't want me in there.'"