China Fashion Week Brings Face Masks to the Runway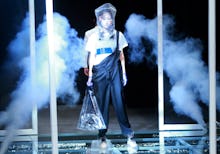 China Fashion Week got very real about China's air pollution problem. 
During what's usually a glamorous, enchanting and unreal nine-day event in Beijing, a few fashion designers decided to incorporate an accessory all too familiar with the country's inhabitants: face masks. 
At the ILOVECHOC Wei Chao Collection show Wednesday, models stomped down the runway in two varieties of protective gear: surgical face masks, and a headpiece that resembled something a beekeeper would wear. 
The fashion statements reflect a sobering reality for China's urban dwellers and the country's rising air pollution problem. According to a recent study, air pollution in China kills about 4,000 people every day. That's had a clear, practical impact, as face masks become a norm on city streets in China. 
As for how that was interpreted on the runway this week, the ILOVECHOC Wei Chao models had to walk through a cloud of "smog" on the catwalk; one of the masks even had a drawing of a hand over it, suggesting silence or self-protection. 
It's dystopian fashion at its most obvious, with some models donning protective plastic skirts, bags and backpacks. Another model walked with gloves and a sweatshirt emulative of a hazmat suit. 
ILOVECHOC wasn't the only show with a clinical — and seemingly cynical — tilt. On Tuesday, models paraded creations from the IM International 2015 Graduates' Collection, which included face masks adorned with animated drawings. 
It was a more light-hearted approach, yet one that still called attention to the polluted world we, especially those in China, live in today. 
Face masks during China Fashion Week is nothing new, either. In 2014, during a China Fashion Week show for QIAODAN Yin Peng Sports Wear Collection, the designs incorporated industrial-looking, pollution-blocking masks with sportswear. Earlier this year, Chinese designer Masha Ma put crystal-studded masks on her models at Paris Fashion Week.
At this point, China's air pollution has become a deadly, urgent problem. For some, putting masks on the runway may be a strong political critique; for others, it merely reflects a practical reality and recognizes a market when it sees one. As Reuters reported, face masks have become a "multimillion-dollar industry" as pollution worsens.
For some Chinese designers, that means turning a real-life dilemma into a stylish opportunity. Several designers, including Masha Ma, collaborated with major online retailer Yoox last year for a eco-friendly collection of designer face masks, with proceeds going to environmental groups. Might as well use fashion to make a difference.