Amazon Has Stopped Selling Google Chromecast and Apple TV — Here's How to Get Them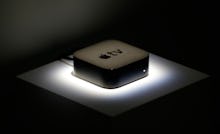 E-commerce giant Amazon announced on Oct. 1 it would stop selling the Apple and Google content-streaming devices in an attempt to minimize the competition against its own content-streaming gadgets, but the rest of the Internet is still selling them. 
While Apple TV and Google Chromecast are popular on the site, both devices threaten the sales of the Fire TV and Fire TV Stick, Amazon's equivalent of the named Google and Apple devices introduced in 2014, the New York Times reports. The ban comes after Amazon amped up its streaming devices with higher definition, a voice-activated remote control and a gaming edition in mid-September. 
Where to find them: The Apple TV and Google Chromecast can both be purchased on their company's respective websites. As for Chromecast, the custom "lemonade" and "coral" color options can only be purchased through the Google Store, according to its website. 
Both gadgets can be purchased through Best Buy, Wal-Mart, Target and Staples as well at consistent prices. The Google Chromecast is priced at $35 and the Apple TV costs $69.
CNET compared all three products plus the comparable Roku TV devices in June and decided the $70 Roku 2 is the best product of the four because it treats all content providers equally, among other things. "The Roku platform remains our favorite, with the most apps, the best search and an interface that doesn't prioritize one content provider — like Amazon or Apple — over any other," the review reads.