Fact-Checking Donald Trump, Ted Cruz and Ben Carson from CNBC GOP Debate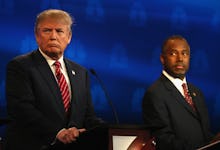 Much was said Wednesday night during the third Republican primary debate, but not all of it was true. Several candidates, including real estate mogul Donald Trump, Texas Sen. Ted Cruz and neurosurgeon Ben Carson, made false claims onstage during CNBC's event at the University of Colorado Boulder. 
Here's a breakdown on what was fact and what was fiction in Trump's, Cruz's and Carson's remarks on Wednesday.
During the CNBC debate, Trump claimed to be paying his own way to the White House, though per Reuters, the real estate mogul raised $3.9 million during his last campaign fundraising quarter and only $100,000 came from his own pocket. In full, Trump has personally shelled out $1.9 million since announcing his candidacy in June, Reuters reports.
On Wednesday, Trump also denied referring to Florida Sen. Marco Rubio as "Mark Zuckerberg's personal senator" in regards to Rubio's stance on a form of immigration visa called the H-1B. Yet that exact line is published on the section of Trump's website that outlines immigration policy, CNN reports.
"Raising the prevailing wage paid to H-1Bs will force companies to give these coveted entry-level jobs to the existing domestic pool of unemployed native and immigrant workers in the U.S., instead of flying in cheaper workers from overseas," reads Trump's position on immigration. "This will improve the number of black, Hispanic and female workers in Silicon Valley who have been passed over in favor of the H-1B program. Mark Zuckerberg's personal senator, Marco Rubio, has a bill to triple H-1Bs that would decimate women and minorities."
Cruz later made a bold claim when he said women's wages have gone down since President Barack Obama took office. According to Cruz, Obama and "the big government economy" has forced the medium weekly wage for women down to $733. However, according to FactCheck.org, Cruz was citing outdated information. Weekly wages have increased under Obama, per data from Census Bureau. In current dollars, women earned a median weekly wage of $633 during the fist quarter of 2008. In 2015's first quarter, women earned a median weekly wage of $724. 
For his part, Carson also missed the mark more than once during the third Republican debate. One inconsistency came when the retired neurosurgeon was pressed about his connection to Mannatech, a company that sells dietary supplements. Mannatech came into some legal trouble in 2007, when the Texas attorney general accused the supplement maker of violating the Texas Deceptive Trade Practices Act through "unlawful, misleading sales practices." Carson denied all ties to the company, saying, "I didn't have an involvement with them." Yet at one time, the candidate allegedly accepted money to give speeches at Mannatech-hosted events, the Wall Street Journal reports.
Following Wednesday's event, the Republican candidates are scheduled to meet for eight more debates, the next of which will take place on Nov. 10 in Milwaukee, Wisconsin.