Taylor Swift Is Countersuing Radio DJ David Mueller — Here's What You Need to Know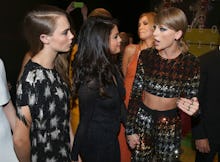 Taylor Swift is countersuing former country music radio host David Mueller after he sued the singer along with his former employer, KYGO radio station. Mueller was fired two days after a Swift concert at Denver's Pepsi Center in September for allegedly groping the singer while backstage during a photo opportunity. In Mueller's original lawsuit, the host denied ever having touched Swift during a photo-op backstage at the singer's September concert at Denver's Pepsi Center, claiming another host was the one who inappropriately touched Swift's behind. 
However, Swift's lawyers have slammed the lawsuit, writing in their counterclaim, "Ms. Swift knows exactly who committed the assault. It was Mueller," Rolling Stone reports. "Mueller's newfound claim that he is the 'wrong guy' and, therefore, his termination from KYGO was unjustified, is specious."
In Mueller's suit, the host claims another employee of the station not only was the man responsible for grabbing Swift, but even showed Mueller while backstage exactly how he had his arms around the 25-year-old before groping her butt. Swift and her legal defense team, however, seem adamant about bringing down Mueller for the inappropriate act. 
The singer's lawyers wrote in their countersuit she was "surprised, upset, offended and alarmed" after the host's alleged overstep. According to Rolling Stone, Swift has promised to donate any money rewarded from her countersuit to charity organizations "dedicated to protecting women from similar acts of sexual assault and personal disregard."
Swift has been touring worldwide along with her band and backup dancers during her massively successful 1989 tour, which is expected to rake in $200 million.