Caitlyn Jenner and Misty Copeland Lead List for Glamour's Women Of The Year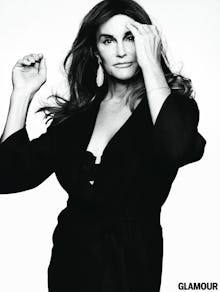 Each year since 1990, women's magazine Glamour has selected a group of dynamic females to honor as women of the year. The women chosen for this year's 25th anniversary of the award, announced Thursday, represent female diversity and strength. 
Three of the eight honorees are Misty Copeland, the first African-American female principal dancer of the American Ballet Theatre; Caitlyn Jenner, a leader in the fight for transgender equality; and the U.S. Women's Soccer team, whose 2015 World Cup victory proved that "playing like a girl means playing like a badass," as President Barack Obama so eloquently said at the White House on Wednesday. 
"Since 1990, Glamour's Women of the Year Awards have saluted the planet's most remarkable female leaders, and this year's winners are no exception," the magazine's Editor-in-Chief Cindi Leive wrote in an emailed press release. "They have been inspired and led by the generations of Women of the Year before them, and Glamour is thrilled to celebrate their passion."
Glamour will honor the women at its Women of the Year ceremony on Nov. 9 at Carnegie Hall in New York. In the press release, New York Mayor Bill De Blasio designated the day "Women of the Year Day," and will light up the Empire State Building in Glamour's trademark pink on Nov. 9 in recognition. Comedian Amy Schumer will introduce this year's honored women at the event. The honorees will also be featured in Glamour's December issue, which hits shelves Nov. 10.
Here's a preview of the honored women's interviews with Glamour for the December issue and what they had to tell the magazine:
Actress Reese Witherspoon: "I have achieved a certain amount of success, and I felt a responsibility to my daughter and to women in this world to create more opportunities for women — women of different ethnicities and socioeconomic backgrounds. We're 50% of the population." 
Transgender athlete Caitlyn Jenner: "This issue has been swept under the rug for so long. I need to tell this story on the highest level you can possibly do it, not just for me but for this entire community." 
Ballet dancer Misty Copeland: "Generations of black women and men didn't have a fair chance in the ballet world; it's still difficult to be 'other.' Understanding that made me want to speak up and represent what so many couldn't."
Elizabeth Holmes, CEO of blood test company Theranos: "[I want] to be able to demonstrate that women can build technology companies like this and make a real impact in the world as scientists and engineers." 
Abby Wambach, for the U.S. Women's Soccer team: "What we did not only helped the popularity of women's soccer and women's sports in our country, but women, period. To be a part of a generation that is pushing the needle forward is something I am very proud of."
Fashion designer Victoria Beckham: "I did have to find myself and my confidence. And I want to make other women feel the best version of themselves. That's the same message as the Spice Girls. It's still Girl Power."
Cecile Richards, president of Planned Parenthood: "Women, men and young people deserve quality health care and fundamental rights. I will do this job every day to protect them."
"The Women of Charleston": Alana Simmons, Nadine Collier, Bethane Middleton-Brown, Felicia Sanders and Polly Sheppard are Charleston, South Carolina, residents who became advocates for peace after the Charleston church massacre in June. "It can't just be an 'I,' it can't just be black people, it can't just be white people, it can't just be poor people, it can't just be victims," Simmons, whose grandfather died in the shooting, told Glamour. "It needs to be 'we.' As in: we the people."