15 Powerful Quotes from 'Black Women Confessions,' the Anonymous Tumblr for Black Women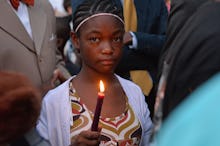 In the wake of a viral video that captured a white school resource officer in Columbia, South Carolina, slamming a black high school student to the floor and dragging her across a classroom this week, the challenges facing black girls and women have drawn increased scrutiny across the U.S.
Articles have been written about the disparities black women face in school, where they face disproportionate discipline rates and are suspended at six times the rate of their white counterparts. Parallels have been drawn between this incident and the brutal treatment of a teenage girl at a McKinney, Texas, swimming pool over the summer, where a racially loaded altercation sparked a police response and public outcry.
Sandra Bland, Kindra Chapman, India Clarke and others have had their names memorialized under the hashtag #SayHerName, a tribute to black women — both cis- and transgender — who have lost their lives to violence in recent years. A defining feature of these conversations is that they have came to public consciousness almost exclusively through the efforts of black women — a population forced to speak up for themselves in ways others would not.
A Tumblr blog called Black Women Confessions is sharing the everyday experiences of these women. Managed by four anonymous administrators, the account receives submissions from women and girls who wish to express sentiments — whether fearful, joyful, anxious, confused, observational or otherwise — that they do not wish to share publicly under their own names.
The result is a cathartic and often moving collection that highlights the interior lives of black women. Below are 15 of powerful statements made on the blog since it launched in June 2014:
Meaningful words: These confessions also serve a purpose that remains under-addressed when it comes to black women. According to the National Alliance on Mental Illness, black women deal with depression at lower rates than their white counterparts, but when they do experience it, it is "with greater severity and persistence." This is exacerbated by a lack of available treatment options and stigma around seeking treatment to begin with, NAMI writes: Only 12% of black women seek treatment or help.
While not all the confessions contained in this blog deal with depression directly, its function nonetheless lays bare the emotional complexity of black women's experiences in a way that not only validates them but gives them means of de-stigmatized expression. In a year when one month saw numerous black women die in America's jails — often of suicide — maintaining spaces where black women can share their struggles, anxieties and triumphs is more important than ever.
The administrators at Black Women Confessions did not respond to Mic's request for comment Thursday.
h/t Huffington Post