There's a Good Chance You Have Herpes, Says New Data — But That's Totally OK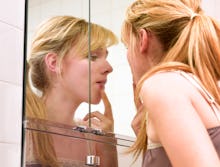 When people usually talk about herpes, the conversation is usually tinged with panic, due to the social stigma surrounding the virus. But new data suggests there's nothing to be afraid of, because herpes is far more common than we think.
According to a study from the World Health Organization released Wednesday, a full 67% of the world's population under the age of 50 — or 3.7 billion people — live with type one herpes, or HSV-1.
HSV-1 is transmitted via "oral-oral contact" and often causes a type of sore around the mouth called orolabial herpes, according to the WHO. Type two herpes, also known as HSV-2 or genital herpes, is "almost entirely sexually transmitted through skin-to-skin contact," the WHO reports. 
Both types of herpes are treatable via outbreak suppressants, though the virus itself is incurable. Although HSV-1 is not usually sexually transmitted, if a person with HSV-1 performs oral sex on their partner during an outbreak, that partner can contract HSV-1, which can cause sores on the genitals. 
Per its January estimates, 417 million people between 15 and 49 years of age have type two herpes. Add that to Wednesday's figures and the WHO estimates that, in total, more than half a billion people under the age of 50 have either HSV-1 or HSV-2. 
Elsewhere, the Centers for Disease Control and Prevention estimates that in the United States, nearly one in six people under the age of 50 have type two herpes. Other sources suggest the infection rate could be closer to 25% for women and 10% for men. 
Despite those figures, cultural taboo surrounding herpes persists. In a 2007 poll, for instance, respondents ranked herpes as the second most stigmatized sexually transmitted infection, second only to HIV. 
"The virus can have a significant negative impact upon an infected person's mental wellness and personal relationships," reads the WHO report. "People with orolabial herpes symptoms may face social stigma and can experience psychological distress as a result."
Jokes about herpes in popular culture exacerbate the psychological effects of herpes, according to the Atlantic. "Regardless of where the stigma came from, film and TV no doubt keep it alive," writer Jon Fortenbury wrote for the publication's health section, pointing out that nearly every movie directed by Judd Apatow includes at least one herpes joke. 
"If people had all the info, it wouldn't be funny anymore," writer and comedian Jennifer Lemons told the Atlantic. "You have to figure, if indeed the stat is one in four, and you're telling a joke at a party where there are 20 people, there are probably a couple people there who are not calling you out but whose feelings are hurt."
The WHO and its partners are working to speed up the research and development of herpes vaccines, according to its report, and several microbicides are already being reviewed. Yet the best defense, according to Dr. Marleen Temmerman, department director for reproductive health and research at the WHO, is knowledge.
"The new estimates highlight the crucial need for countries to improve data collection for both HSV types and sexually transmitted infections in general," Temmerman said in the WHO report. "Access to education and information on both types of herpes and sexually transmitted infections is critical to protect young people's health before they become sexually active."