'Girl Meets World's Rowan Blanchard Says Social Media Is Fueling the Feminist Revolution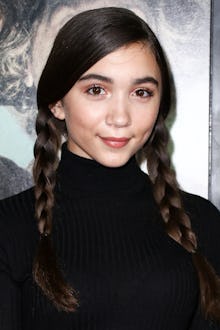 Rowan Blanchard may only be 14, but she's proving age is just an irrelevant number when it comes to the ability to spread feminist gospel. The Girl Meets World actress took yet another opportunity to explain why feminism is so important for young women — and how social media in particular facilitates their ability to engage with these beliefs — at Instagram's #MyStory initiative.
"I think it's important for girls to recognize feminist issues because it directly affects them," Rowan told Entertainment Weekly at the event. While many young people are told they can "change the world," she observed, "it's a difficult thing to speak out." Belonging to a "sisterhood" made her "feel like I have the power to change the world by speaking my voice."
The ability to speak out on one's own terms has particularly valuable potential for women even beyond specifically feminist content. Blanchard cited recent conversations about the gender wage gap in the entertainment industry as a time when women were silenced.
"Society was telling them if that if you speak out you're going to be labeled, like, this feminist crazy person, difficult, difficult to work with — and that, in itself, is very sexist," she said. "All these female actresses are literally labeled difficult to work with because, God forbid, they have an opinion."
Blanchard is a great example, however, of how young people can overcome feeling silenced by leveraging the power of social media, such as when she wrote a thoughtful essay about white feminism in August. The post soon went viral, undoubtedly educating and affecting countless young fans.
Blanchard "really has used her Instagram platform to talk about a more equal world, and to be the voice of the next generation and inspire other young girls to tell their stories," Instagram COO Marne Levine told Entertainment Weekly.
The young star may be one of the more high-profile women to do so, but countless others are also using social media to express their beliefs — and Blanchard wants the world to hear their stories too. In fact, she recently partnered with Instagram's recent #MyStory campaign to bring attention to their work.
"Instagram is all about visual storytelling, and women are not only incredible storytellers, but they have really important stories and perspectives to share," Instagram's Levine told Entertainment Weekly of the initiative.
While there are of course downsides to social media use — Blanchard has been harassed online too — she is ultimately optimistic about the mutual beneficial relationship between such platforms and raising feminist consciousness. 
As she concluded, "I'm definitely happy that people are speaking out and people are recognizing that they have the power to change things."