22 Ancient Shipwrecks Found Near Greece Date Back to the Archaic Period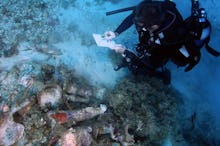 When a group of marine archeologists explored the Greek archipelago of Fourni, Greece, in the eastern Algean Sea in search of ancient shipwrecks last month, they expected to find three, maybe four if lucky. Instead, they found 22 undocumented shipwrecks in the area — some more than 2,500 years old, Live Science reported.
"I think we were all shocked," Peter Campbell, the venture's co-director from the U.S. RPM Nautical Foundation, told Life Science. "We were expecting three or four wrecks, and we would have been very happy."
The discovery was a collaborative effort between Greek and American archeologists and "one of the biggest archeological finds of 2015, Discovery reports. The archipelago is only 17 square miles and now accounts for 12% of all known shipwrecks in Greek waters, Campbell told Discovery. 
The vessels found range from the Archaic period (700-480 B.C.) to the late medieval period (16th century A.D.), Live Science reports, and were discovered at depths of 10 feet underwater to depths of eight feet. The discovery makes Fourni a newfound goldmine for ancient shipwrecks. 
"We knew already that Fourni was a hub in navigation in the Aegean, so we had some expectations, but the results surprised us," George Koutsouflakis, the Greek director of the survey, from the Ephorate of Underwater Antiquities, told Live Science. "The importance of this place was underestimated."
Archeologists are particularly surprised with this find because mentions of the Fourni archipelago in ancient Roman texts are scarce. "By the late Roman period, we don't really know anything about the island," Koutsouflakis told Live Science. "Fourni is hardly mentioned in the sources of that time. You see that the shipwrecks tell us a more nuanced story. The island must have maintained importance as a harbor site."
Koutsouflakis and Campbell told Live Science they're analyzing the artifacts in an Athens laboratory to find out what the ships contain and why they were doomed in Fourni. The two also hope to resume discovery in the area in the future, with more advanced technology such as underwater robots, according to Live Science.
This isn't the first 2015 underwater discovery making headlines. In July, treasure hunters discovered $4.5 million worth of rare gold Spanish coins in Florida during a shipwreck salvage 300 years after the ship's sinking. The coins found, called "Royals," account for 30% of all Royals existing in the world, ABC reported.