Here's How Many Female CEOs Actually Run the Biggest Clothing Companies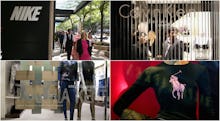 Dov Charney's ousting as head of American Apparel in 2014 came after a series of financial misfortunes and lagging sales. But it was also after years of sexual harassment lawsuits against Charney, American Apparel's founder, as well as criticism of the company's "degrading" ads featuring nearly naked women.
When it all got to be too much, American Apparel brought on a new CEO in December 2014 to clean up the mess — a female CEO, to be exact. Paula Schneider is faced with rebranding a company that has struggled with its portrayal of women, down to the sexed-up images of models posing seductively in socks, and only socks.
To be sure, "sex sells" is nothing new. Yet there's something to be said about clothing companies that cater heavily to women missing the mark on, y'know, understanding women. From the types of clothes to the images used in ads, the average female shopper can get the creeping feeling the fashion execs behind the scenes aren't actually... women. 
So Mic decided to take a look, and here's what we found: Of the 15 mass-market apparel companies on the Fortune 500 list, zero have female CEOs. 
Those 15 apparel companies include:
·      Nike
·      VF (parent company of Jansport, North Face, 7 For All Mankind and more)
·      PVH (parent company of Calvin Klein, Tommy Hilfiger, Kenneth Cole, Michael Kors and more)
·      Ralph Lauren
·      Hanesbrands
·      Coach
·      Levi Stauss
·      Fossil Group (parent company of Emporio Armani, Michael Kors, Marc Jacobs and more)
·      Under Armour
·      Carter's (parent company of OshKosh B'gosh)
·      Wolverine World Wide (parent company of Keds, Hush Puppies, Sperry and more)
·      Guess
·      Skechers U.S.A.
·      G-III Apparel Group (parent company of Guess, Calvin Klein, Nine West and more)
·      Columbia Sportswear
As Women's Wear Daily put it, "Women shoppers make more than 80% of the purchase decisions in fashion — yet only a fraction of the corporate decisions."
A small club of female leaders: The number of women leading companies in the Fortune 500, an index of the most profitable companies in the United States, has historically been low. In 2015, there were 25 female CEOs, a rate that — at 5% — still ranks at an all-time high. 
That's a big jump from when there was only one woman leading a company on the Fortune 500 back in 1998, according to the Washington Post. 
While progress has been sprinkled throughout some industries making up the Fortune 500, it has yet to infiltrate the fashion sphere.
What's keeping women from the top? Part of the gender imbalance can be blamed on old-school hiring systems that benefit men, double standards that keep women from being aggressive in the office and an industry that still can feel like an "old boys' club," according to a 2012 Women's Wear Daily analysis of the phenomenon.
It's an ironic reality, given that women's clothes are the moneymakers in apparel retail. On a practical level, women's clothing accounts for 39% of global sales, while men's clothes account for 25%, according to a 2014 Euromonitor report. The talked-about Fashion Week shows are devoted almost exclusively to women's clothing. When New York had its first Men's Fashion Week this year, critics debated whether it was even worthwhile.
Clothing for women, by women: There are certainly successful female designers and industry leaders in the clothing world, from Vera Wang to Donna Karan. Yet many of these women had to start their own companies or lucked into family businesses they proceeded to build themselves. Miuccia Prada, the co-CEO of Prada, one of the world's most valuable brands, according to Forbes, inherited the family business from her grandfather. 
On the surface, having more women in fashion leadership may seem to have merely symbolic significance, a showcase of diversity that's important for the sake of fairness. But there are practical consequences to having men make the clothes women are supposed to wear. 
There are practical consequences to having men make the clothes women are supposed to wear. 
Consider pockets, for instance. They're downright beloved by women, but the assumption that women always carry purses means most companies aren't churning out dresses with pockets for women to carry their phones. But small female-run companies like the Willary or proposed products from female design students reflect a familiarity and devotion to solving women's practical problems. 
On the flip side, we know all too well what it looks and sounds like when male CEOs fail to understand the wants, needs and lived realities of their female shoppers. Lululemon, which caters mostly to women, had an awkward moment in 2013 when founder Chip Wilson seemed to insult women's bodies in an interview with Bloomberg TV. 
"Frankly, some women's bodies just don't actually work [for the yoga pants]," Wilson said. "It's more really about the rubbing through the thighs, how much pressure is there over a period of time, how much they use it." He later issued an apology that still fell flat for many.
Mike Jeffries, the infamous CEO of Abercrombie & Fitch, has inspired similar ire.
Schneider, for her part, is facing a tough transition at American Apparel. But she's already done away with the sexy and racy ads, and has effectively ended the leaky flow of sexual harassment rumors from within. While it remains to be seen whether she can turn the company's financial fate around, she's quickly shaken off the bad anti-women vibes.
When it comes to selling women clothing, that's got to be the best place to start.