James Franco Explains His Bizarre Emma Watson Tattoo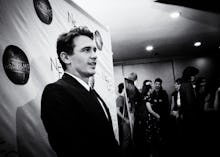 Actor James Franco pulled a fast one on fans Thursday when he posted a photo of himself to Instagram. The image sparked digital double takes, as the photo is not only a repeat picture, but also depicts Franco with a huge tattoo of actress Emma Watson across his neck. 
Franco captioned the photo "I [heart] Hermoine," and attributed the ink to indiangiver, an Instagram handle that belongs to Seatle-based mixed media artist Cheyenne Randall.
Randall's pattern as an artist is to digitaly superimpose tattoos onto images of historical figures and celebrities. The tattoos, he writes in his biography, are "in the American Traditional style."
"Shopped Tattoos came to life during the summer of 2013 during a two-month bed rest period thanks to a dislocated kneecap," Randall's bio says. "Being a visual artist without any options to create Cheyenne taught himself Photoshop and began applying tattoos very amateurishly to people through out history. What he refers to his Bootleg School of Design."
"Spending an embarrassing amount of hours doing so, however, has led to the now-well-known body of work simply hashtagged #shoppedtattoos," he writes. "Shared by, viewed by, appreciated by people from around the globe."
Although Franco's post may have raised some rumors and fueled speculation about the actor's possible relationship with Watson, at the very least it shed light on a talented artist and the work he's achieved. Here's a selection of the Randall's work, which the artist has shared via Instagram.