Twitch Creative Channel: New TV Feature Kicks Off With Bob Ross' 'Joy of Painting'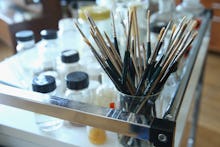 Twitch, a platform known for live-streaming gaming footage, wants to bring artists and musicians into the fold. On Wednesday, the startup, which last year got acquired by online retail giant Amazon, debuted a dedicated landing page for what it hopes will be a growing new community called Twitch Creative.
"It's been an amazing privilege to watch live video grow up," wrote Bill Moorier, head of Twitch Creative, on the company's blog. "From the really early days when what we were doing was only just barely possible, through a time when it worked but nobody could really figure out what to use it for, to the amazing rocket ship that is Twitch."
"Today, we're happy to announce our official support for the Twitch Creative community," Morrier wrote. 
For those unfamiliar with Twitch, the platform lets users broadcast live feeds of their video game sessions and offers a channel for gamers to connect to and share in an online community. That feature now expands to artists. 
Aside from starting a personal broadcast, users have the option to follow, chat with and direct message fellow artists. Users can also browse a number of categories, among them drawing, art, digital, photoshop, painting, adobe, 3d  and cosplay. Twitch shared several examples of the new channel via Twitter on Thursday.
It's been a little over a year since Twitch's roughly 100 million monthly unique visitors  and 1. 7 million broadcasters caught Amazon's eye, which led to an Amazon-Twitch takeover to the tune of $970 million last August, TechCrunch reports. 
To commemorate the channel's launch, Twitch is broadcasting 8.5 full days of The Joy of Painting, artist Bob Ross' show. Here's the link to the Ross show, which stars at 5 p.m. Eastern and won't quit until Ross has painted his way through 403 full episodes.