Scientists Say Cryotherapy Is Expensive Bullshit — But It Probably Won't Kill You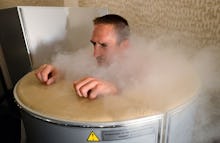 On Oct. 20, after closing up for the night, Las Vegas Rejuvenice employee Chelsea Ake-Salvacion, 24, entered the cryotherapy machine. It was cooled to as low as minus 240 degrees Fahrenheit. 
Within "seconds" of entering the chamber, said her family, Ake-Salvacion was dead. Investigators from the Nevada State Occupation Safety and Health Administration told local station News 3 they believed her body was trapped in the device for over 10 hours after it failed to turn off. 
The State of Nevada Business and Industry Division shut Rejuvenice down. But Rejuvenice was just one of many businesses across the U.S. and Europe offering whole-body cryotherapy, a new, high-tech alternative to traditional cold therapies for active people like ice baths and cold packs. Cryotherapy machines use liquid nitrogen or other coolants to briefly expose people to dry air far colder than any natural temperature scientists have observed on Earth. 
While marketed as a wellness service, cryotherapy is currently unapproved by the Food and Drug Administration.
Some cryochambers are walk-in, sauna-style devices where users wear thick wool socks and mittens to avoid injury. Others are free-standing devices that can be easily installed in a gym or locker room. It's important the devices use air with no humidity to prevent freezing, but either way, Tech Times reports they ultimately cool body temperature by 35 to 45 degrees Fahrenheit.
The promise of cryotherapy: Industry proponents say the machines offer virtues ranging from pain relief and rejuvenation to weight loss. The theory goes that brief exposure to such extreme temperatures sends the body into a kind of survival mode, drawing blood into the inner body where it is flooded with oxygen and released back into the rest. 
KryoLife claims on its website that the "hyper-cooling treatment improves skin tone, reduces signs of aging, manages pain, lowers inflammation, improves athletic performance and can mitigate depression." 
Other benefits of cryotherapy, according to KryoLife, include "cellulite reduction," "boosted metabolism," "collagen production," "lowered incidence of colds and flu" and "greater testosterone levels in men" — all just in exchange for a couple minutes in the cryosauna.
In other words, cryogenics is a miracle treatment for whatever ails you. It is also expensive — one session at KryoLife costs $90, while one start-up in Atlanta sells home cryo-systems for approximately $45,000. The industry has won considerable public relations advantages by connecting with high-profile athletes like Kobe Bryant (and the entire roster of the Los Angeles Lakers).
What's it actually like? New York magazine's Jessica Silvester, who tested a minus 264-degree chamber at KryoLife in New York, said she came out of the machine feeling "great," crediting it partially to a massive endorphin rush.
One section of KryoLife's site suggests that liquid nitrogen is not particularly dangerous, because "it is the same nitrogen that makes up the air we breathe (actually 78% of it)." Testimonials on the website suggest cryotherapy can replace or supplement treatments for "severe neuropathic and inflammatory pain," "inflammation due to ... herniated disc" and "autoimmune disease."
Do the claims check out? When Mic spoke to experts on sports therapy and medicine, a considerably different picture emerged. Our research revealed insufficient study, a lack of evidence and possible misrepresentation of what's actually occurring in the body when people enter cryochambers. While techniques like ice baths and cold packs have long been used to alleviate muscle pain in athletes and thus increase performance, cryotherapy has much less scientific evidence backing it.
"The current evidence is insufficient to support the use of whole-body cryotherapy for preventing and treating muscle soreness after exercise," Joseph Costello, senior research associate at the University of Portsmouth's department of sport and exercise science in the U.K., told Mic via email.
"We found only four studies examining the benefits of this treatment for reducing muscle soreness after exercise," Costello added. "Unfortunately, this included only 64 participants, and as a result we cannot definitely conclude whether or not this treatment is effective."
William M. Adams, director of sport safety policy initiatives at the University of Connecticut's Korey Stringer Institute, was similarly skeptical.
"There is little conclusive evidence supporting the use of whole-body cryotherapy as a fitness aid," he wrote Mic. "Of the available literature, there is little evidence that has shown that whole-body cryotherapy enhances recovery or improves performance during athletic competition."
According to Adams, it is unclear whether cryotherapy to treat muscle soreness or fatigue leads to "beneficial changes." Also, "if any changes do occur," it's unclear "whether or not these are clinically meaningful."
Regarding the claim that whole-body cryotherapy promotes healing after injury, Costello told Mic that evidence is "limited in the scientific literature." According to Adams, "while cryotherapy may assist in attenuating pain, there is very little evidence to support using cryotherapy to reduce swelling and promote healing."
Costello was similarly skeptical that cryotherapy stimulates metabolism, treats inflammation or has cosmetic or psychological benefits.
"To the best of my knowledge there is no evidence to substantiate the majority of these claims," he said.
Finally, both experts agreed that other techniques offer similar effects without the high price tag.
"My research has found that muscle, skin and core temperature cools similarly after cold water immersion (10 C) as it does after minus 110 C whole-body cryotherapy following a similar duration of exposure," Costello told Mic. "The rationale behind this is that water is a better conductor of heat in comparison to air. Therefore, despite the temperature differences, people lose heat to the water quicker than to the cold air."
Adams wrote there were other methods that were "cheaper, portable and feasible in all settings."
Cryotherapy may have one advantage, though: efficiency. "I think [whole-body cryotherapy] is more efficient than an ice bath," Georgia chiropractor Josh Glass told Upstart. "Not many people are going to get an ice bath all the way up to their head ... so it does get more surface area." As the New York Times reported in 2011, sports teams have turned to the devices to mimic the effects of older methods in a more rapid fashion.
And the fate that befell Ake-Salvacion is not likely to occur on a large scale.
When asked whether the machines were generally safe, Costello told Mic he was aware of only one prior incident "where a user sustained a cold injury (similar to frostbite) after using the treatment."