'Hocus Pocus' Is a Piece of Queer Iconography — And That's Why a Sequel Is Necessary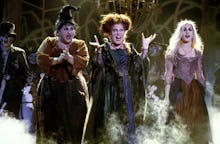 In 1993, Disney released a very strange film. Its story followed a young boy, Max, who messes with the wrong supernatural elements and winds up reviving three witch sisters. The Sanderson sisters, played by Bette Midler, Sarah Jessica Parker and Kathy Najimy, are determined to use the youth of Salem to restore their looks. There's also an extended musical sequence where Midler sings "I Put a Spell on You." 
That film, Hocus Pocus, is as odd in 2015 as it was 22 years ago. At the time, it critically and commercially flopped. Yet re-airings of the film on both Disney Channel and ABC Family gave it new life with young viewers not old enough for the movie in its theatrical release. In fact, according to a quote ABC Family's director of acquisitions Megan Slaughter gave to Vox, the movie is one of their highest rated every Halloween.
Hocus Pocus has built up so much enthusiasm that its stars even toyed with the idea of a sequel on Twitter.
Sadly, the talk about a sequel would appear to be much ado about nothing. Asked by Vulture about the rumors, Parker shot it down as just talk.
"I think it's just on the World Wide Web," she told Vulture. "We've all been exchanging funny, not-reality-based messages to one another. [That's] as much as I know."
The lack of a sequel is a shame, and not just because it'd be funny to see the Sanderson sisters again. Hocus Pocus is more than a silly movie that airs on the Disney Channel every Halloween. It also serves as an important bit of queer cinema — important in many ways because of the young audience it targets.
While Hocus Pocus isn't particularly gay, with no LGBT characters, its queerness is present in nearly every element. The casting alone is impressive, with Midler, Najimy and Parker each enjoying a sizable gay fanbase. It's not a stretch to say that for many young adults, Hocus Pocus was their first introduction to Midler, a legend in her own right. The actress herself talks effusively about the film even two decades later.
"We made it before the tidal wave of Halloween happened," she told E! Online in 2013. "Now it's like huge. It's huge — kids, grown-ups, everyone takes part in it. This movie was kind of like the beginning of the wave."
The actual story of Hocus Pocus deals with male sexuality in a fascinating way. In order for the Sanderson sisters to be revived, a virgin must light the flame of a candle. Instead of having one of the female characters light it, the movie has Max carry the flame. Depictions of male virginity in movies and TV is still exceedingly rare. Hocus Pocus is certainly one of the only aimed at a young audience that does so.
Max isn't queer, but he is a young, male character who is allowed to be sensitive and inexperienced. His virginity is not played as a shame or something to be discarded. It's an essential part of his character, a young man pure of heart. His sensitivity as the protagonist stands opposed to typical depictions.
Then there's "I Put a Spell on You."
If everything else about Hocus Pocus was terrible, "I Put a Spell on You" might save it. In what can only be described as a bizarre interlude, the Sanderson sisters distract a party by performing the Screamin' Jay Hawkins song, with Midler on lead. 
The performance feels like drag or cabaret, balancing actual vocal prowess with full-force performance. Think "Poor Unfortunate Souls"-caliber entertainment, infusing the drama of a spoken word intro with campy flair in the choruses. It's the film's stunning centerpiece.
The actual quality of Hocus Pocus is debatable, but ultimately irrelevant. Classics aren't always made from being unabashedly great — they're made by what they mean to the audience. For a great deal of young people, Hocus Pocus is part and parcel of Halloween. That it is so queer-friendly makes that all the better.
So while there likely won't be a sequel, it's hard not to give up hope. There's nothing else quite like Hocus Pocus in terms of both audience influence and tone. Halloween movies today are primarily horror-based — think the formerly annual Saw and Paranormal Activity franchises. A Hocus Pocus 2 would give young adult viewers of today and tomorrow their own unique, fun, LGBTQ-friendly Halloween classic. 
After all, though it's been 22 years, for those who grew up on Hocus Pocus, its spell has yet to be broken.