AsapScience Used Big Breasts for Silicon in a Periodic Table Video — People Are Pissed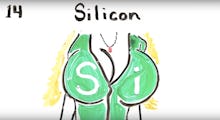 AsapScience, a YouTube channel that proffers fun, educational science videos to its over 4.4 million subscribers, is taking some heat. 
In a video they created about the periodic table, the channel's founders, Mitchell Moffit and Greg Brown, used an image of a blonde woman with extremely large breasts for the element of silicon. At the time of publication, the video had been made private.
The video was posted in May 2013 and has nearly 10 million views, but the video's objectification of women only sparked controversy when Twitter user Laurence D. posted a still from it on Thursday, criticizing AsapScience for the decision. 
Another aggravated user pointed out breast implants are made out of silicone (note the addition of an E) as opposed to silicon. The latter is a naturally occurring element — it is a metalloid, meaning it simultaneously contains the atomic properties of a metal and nonmetal; there's also a lot of it in the earth's crust. Silicone, on the other hand, is a synthetic polymer gel often used for implants and augmentations.
In response, Brown and Moffit publicly apologized with a series of tweets for their decision to use the buxom blonde, saying they were "blind to the damage this image could do," as they are men living in a "patriarchal society."
There is a well-documented gender disparity in science, technology, engineering and math fields. A double-blind, randomized 2012 study, published by the Proceedings of the National Academy of Sciences, found both male and female faculty in academic sciences were more likely to rate the man as more competent when presented with equally qualified male and female candidates.
Another study, which appeared in PNAS in 2014, revealed both male and female managers for jobs which involve math were two times more likely to hire a man.
This bias applies to racial minorities as well. Nearly half of black and Latina women working in STEM have been mistaken for administrative or custodial staff, according to the Harvard Business Review.
There have been efforts, particularly on social media, to equalize this industry. One such example is the #iLookLikeAnEngineer campaign, where women in STEM posted pictures of themselves describing their qualifications and job, accompanied by the hashtag.
Yet while women consistently compose the majority of university enrollment, they still only account for 14% of the engineers in the United States. The problem with the silicone image, then, is that it's both symptomatic of and perpetuating a much bigger problem.