Justin Bieber Just Released the Track List for New Album 'Purpose' — in Graffiti Photos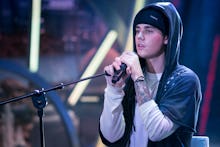 Justin Bieber-related graffiti is being found all over the world, but it's not because the pop star is reverting to his 2013 ways — the 21-year-old singer actually has a purpose behind the street art. Bieber posted photos of 18 graffiti murals from across the world on Twitter Wednesday, revealing the 18 song track list with each song's title written in the art, revealing the names of the tracks off his upcoming album, Purpose, set for release Nov. 13, according to Entertainment Weekly.
The "What Do You Mean" singer used the hashtag #purposealbum to promote the song titles, in addition to tagging other artists who appear in certain tracks off the highly anticipated project.
Check out the full track list from Purpose below, as well as the creative graffiti from across the globe, including cities like Paris, Oslo, Stockholm, Berlin and England:
1. "Mark My Words"
2. "I'll Show You"
3. "What Do You Mean"
4. "Sorry"
5. "Love Yourself"
6. "Company"
7. "No Pressure (Feat. Big Sean)"
8. "No Sense (Feat. Travis Scott)"
9. "The Feeling (Feat. Halsey)"
10. "Life Is Worth Living"
11. "Where Are U Now"
12. "Children"
13. "Purpose"
14. "Been You"
15. "Get Used To Me"
16. "We Are (Feat. Nas)"
17. "Trust"
18. "All In It"