Airplane Catches Fire at Fort Lauderdale Airport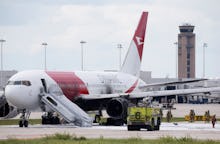 The engine of a Dynamic Airways Boeing 767 burst into flames on the runway at Fort Lauderdale International Airport in Florida on Thursday. Although airport spokesman Greg Myer originally told local TV station WSVN that none of the 100 passengers onboard were injured, multiple media outlets reported that "several" passengers were injured.
The aircraft was reportedly taxiing when its left engine caught on fire, WSVN reports. Emergency responders arrived quickly to the scene and doused the plane in foam to extinguish the flames. Footage from WSVN shows the emergency slides had been deployed at the front entrance to the plane in order to evacuate the passengers. 
A compilation video posted to YouTube also captured the scene from a number of different angles.
The airline, Dynamic, is a small commercial line of planes. The airline shuttles passengers between Fort Lauderdale, New York, Venezuela and Guyana.