Netflix November 2015: What's Coming and Going From Netflix This Month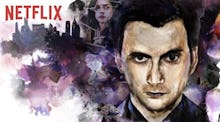 As the seasons change and the weather cools off, Netflix's 65 million subscribers will likely Netflix and chill harder than ever before. Luckily, viewers will have a slew of new options to choose from, as the streaming service announced a variety of incoming movies, shows and specials for the month of November.
For the families, 2004's The SpongeBob SquarePants Movie will finally be available Nov. 1, while the first season of the highly anticipated series Marvel's Jessica Jones will be eligible for binge-watching beginning Nov. 20.
The Netflix original follows the protagonist of the Alias comic series, based on a young girl who experienced a tragic car accident while returning from a family vacation to Disney World. Her family's car crashed into a military equipment truck carrying radioactive materials, causing Jones to obtain superpowers. As Time reports, it's the first Marvel show with a female superhero lead.
Check out the rest of the newest additions to the 'flix below, via TV Guide:
Available Nov. 1 
Idris Elba: Mandela, My Dad and Me
Available Nov. 2 
Available Nov. 3 
Available Nov. 5 
Available Nov. 6 
Available Nov. 7 
Available Nov. 12 
Available Nov. 14 
Available Nov. 15 
Available Nov. 16 
Available Nov. 18 
Available Nov. 20 
Available Nov. 23 
Available Nov. 24 
Available Nov. 25 
Available Nov. 26 
Available Nov. 28 
Available Nov. 29 
Going Nov. 3 
Going Nov. 5 
Going Nov. 7 
Going Nov. 8 
Going Nov. 9 
Going Nov. 10 
Going Nov. 12 
Going Nov. 13 
Going Nov. 15 
Going Nov. 16 
Going Nov. 17 
Going Nov. 19 
Going Nov. 22 
Going Nov. 24 
Going Nov. 27 
Going Nov. 28 
Going Nov. 29 
Going Nov. 30