NYC Halloween Parade 2015: Route Map, Start Time, Theme and Best Viewing Spots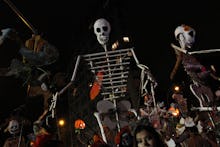 Saturday marks the 42nd Annual Village Halloween Parade in New York City. The seasonal procession starts at 7 p.m. and will include 53 bands, puppets, dancers, artists and "thousands of other New Yorkers in costumes of their own creation," according to the organizer's webpage.
Lineup for the parade will begin at 6:30 p.m. on Sixth Avenue at Canal Street. 
As per tradition, only those in costume are allowed to march in the parade, the theme of which this year is "Shine a Light."
"In times of darkness, we bring in the light," the event organizers wrote to explain the theme choice. "Or, as Martin Luther King says, 'Darkness cannot drive out darkness; only light can do that. Hate cannot drive out hate; only love can do that.'"
Viewers can watch the event play out in real life by heading to Sixth Avenue north of Spring Street to 16th Street. For those outside the city or for anyone not willing to get that close to the action, NY1 will broadcast the event on live television from 7:30 p.m. to 9:30 p.m.
Each year, the Halloween parade gets its funding in part from the New York City Department of Cultural Affairs, in partnership with the City Council. Beyond city funding, the event relies on donations. 
In anticipation of the night, check out some photos from last year's festivities.