Benedict Cumberbatch Just Stunned Audience With Strong Words on the Refugee Crisis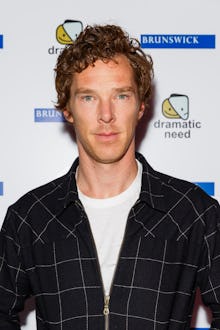 Benedict Cumberbatch reportedly called the British government an "utter disgrace" after his performance of Hamlet on Tuesday at London's Barbican Center, decrying what he perceives as government inaction in the refugee crisis.
Cumberbatch, who said to his audience, "Fuck the politicians," has made a habit of speaking to theater attendees about the issue after every show since September, as part of an effort to raise funds for Save the Children's Syrian refugee efforts. Cumberbatch has raised 150,000 pounds, or roughly $230,000.
"It was all very impassioned," an audience member told the Daily Mail. "He began by reading out a poem called Home by Warsan Shire. He then spoke about a friend who had come back from the Greek island of Lesbos a few months ago, where there were 5,000 people arriving a day, and how the [British] government was allowing just 20,000 refugees into the country over the next five years." (Lesbos drew global attention Thursday when bad weather capsized the fragile fishing boats, killing 11 people, including children; over 200 people were rescued at sea and 38 people are missing.)
"It's not quite what you'd expect when you go for an evening with the Bard, but it got a few cheers," the audience member told the Daily Mail.
Shire's poem has become a staple in Cumberbatch's post-performance pleas, part of which reads, "A parent only puts their child on a boat when the sea is safer than the land."
Theatergoers and the Twitterati remarked on Cumberbatch's controversial comments, with one person pointing out the presence in the audience of Shirley Williams, the former head of the U.K.'s Liberal Democrats party.
The poem, Home, is particularly pertinent in light of Aylan Kurdi, the 3-year-old boy who drowned during an attempt to flee Syria with his family via boat and whose body washed up on a Turkish shore in September. An image of Kurdi's lifeless body on the beach sparked worldwide outrage at seeming complacency regarding the refugee crisis, moving many governments and organizations to action. Germany, for example, said it would accept half a million refugees annually for several years.
An estimated 7.6 million Syrians, about half the country's population, have been displaced by civil war. In 2015 alone, 400,000 refugees from a number of countries under strife took to European waterways.
According to the Guardian, Cumberbatch told Sky News earlier this month, "I don't think the government is doing enough, I'm glad to say that. I would like to sit down with [British Home Secretary] Theresa May and really get an idea of how her economic and political model works.
"There is a huge crisis and not enough is being done. Yes, we need long-term solutions; yes, we need to get people out of the camps so they don't make a perilous journey; yes, it's a good idea to actually have a specific solution, I suppose, once they arrive here. But to say 20,000 over five years when 5,000 arrive in one day? We've all got to wake up to this."
Watch an earlier post-performance plea by Cumberbatch below: