People Are Very Disturbed by This Tweet About Kim Kardashian's Daughter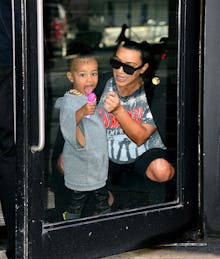 Music website Billboard.com drew the ire of Twitter users Friday morning when it posted a since-deleted tweet about Kim Kardashian and Kanye West's 2-year-old daughter, North West, that many read as sexually suggestive.
Presenting Exhibit A:
Yeah... While the story linked in the tweet is actually an innocuous quick-hit article about North shooing away the paparazzi as her caretaker walks her to a ballet class — "I said no pictures!" the child scolds in a moment captured on video — the wording on Twitter drew a biting response.
The consensus?
A little background: There are levels to the innuendo presented here, but it boils down to Kardashian's appearance in a 2003 sex tape with her then-boyfriend, R&B singer Ray J, that was leaked to the public in 2007. Kardashian has since openly discussed the challenges of having been introduced to mainstream stardom via the tape, and how its legacy — both positive and "negative" — has motivated her to work harder to "get people to see the real me," she told Oprah Winfrey in 2012, according to People.
Nevertheless, the tape has also become a punchline in attempts to de-legitimize Kardashian's rise to fame. 
Until now, most commentators have managed to navigate this terrain without looping the reality TV star's daughter into the mix.
"Let black girls be girls": Some have also linked Billboard's tweet to other instances of black children — especially black girls — being treated by media and observers as if they are not, in fact, children. 
In February 2013, the satirical news site The Onion came under fire for referring to then-9-year-old Academy Award nominee Quvenzhané Wallis as a "cunt" on Twitter (the outlet later apologized). Earlier this year, a first baseman at Bloomsburg University in central Pennsylvania was kicked off his school baseball team after referring to then-13-year-old Little League star Mo'ne Davis as a "slut," also on Twitter.
North, also a child, did not even make it to age 3 before being apparently sexualized by a major media outlet. Billboard did not respond to Mic's request for comment.