Chrissy Teigen Politely Asks the Internet to Stop Judging Her and GTFO of Her Uterus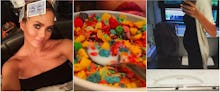 Some celebrities see trolls polluting their mentions and think, "Meh, ignore." Others see them and think, "You want a piece of me, bitch? Bring it!"
Sassy supermodel and social media sorceress Chrissy Teigen falls in the latter camp — especially now that she is with child.
Her most recent digital dispute began (as many do) with an Instagram photo of a bowl of Fruity Pebbles mixed with some supplementary Cap'n Crunch, presumably as a way to add a lil' texture to what might have been an otherwise soggy cereal experience. It was a very good idea.
"Cap'n Pebbles cravings, nightly," she wrote in the caption.
Naturally, a bunch of trolls chimed in to criticize Teigen for eating processed foods while pregnant.  
"I love you, but don't eat this crap while pregnant," one stranger advised. "It's beyond bad for baby, and of course it's not organic."
Another was all, "Don't feed your baby that dyed crap."
While positive comments such as "Eat on girl... indulge!!!" were far more plentiful than those from the judgy organic food lovers who jumped in, Teigen still took issue with the unsolicited advice. So she marched over to Twitter to rant about how she now intends to consume every item on a pregnant woman's "do not eat" list just to piss people off.
Then she started threatening to become a circus performer. 
At this point, Teigen has raised the practice of trolling her trolls to something of an art form. Earlier this month, for instance, she responded to followers' intrusive pregnancy questions by telling them to "get out of [her] uterus." Shortly before announcing her pregnancy, she also shut down busybodies who inquired as to whether she wanted to have kids.
"Anytime somebody asks me if I'm going to have kids, I'm like, 'One day, you're going to ask that to the wrong girl who's really struggling, and it's going to be really hurtful to them,'" she said on Tyra Banks' daytime talk show FABLife. "And I hate that. So, I hate it. Stop asking me!" 
The dyed cereal situation is yet another example of the judgmental questions and criticisms that are hurled at women the moment they conceive. "The behaviur of expectant mothers has never been more closely scrutinized or criticized," wrote Diane Taylor for the Guardian back in 2006.
But with her latest series of tweets, Teigen has taken a stand against the practice of expectant mother body-policing. She will do WTF she wants and handle her pregnancy how she sees fit. She will eat sugary cereal. She will dye tuna. She will take a trapeze class and maybe battle strangers in a sumo suit. And perhaps most importantly for those who follow her on Twitter, she will continue to take strangers to task for asking her rude, intrusive questions on social media. 
h/t Us Weekly