Kristen Wiig's Best Performances Aren't Happening in Movies — They're on Talk Shows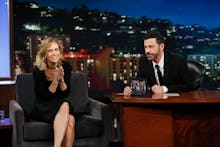 Kristen Wiig's post-Saturday Night Live career has been a mix of blockbuster comedies and performance-driven indies, yet the cinema is far from her greatest stage. Instead, it's her late-night appearances that are her most curious, thoughtful work to date.
Monday, Wiig appeared on Jimmy Kimmel Live, and for the most part, the interview hit the expected beats. She told a fun throwaway story about going to Hershey Park as a kid, and revealed all the times she's been pulled over by police. But it ended with what has become typical of Wiig's late-night appearances: an elaborate gag.
Kimmel had Wiig introduce a trailer for her "upcoming and critically acclaimed film," and it was clear that this was another moment for her to turn an interview into something more. The trailer was for the fake film Crying in a Sweater, a parody of a rudimentary type of indie drama.
This kind of late-night performance art is nothing new to Wiig's style of promotion. She has done it each time she has appeared on The Tonight Show with Jimmy Fallon (and on Late Night with Jimmy Fallon before that).
She first appeared as a ridiculous version of Michael Jordan, returning with her intentionally awful Harry Styles impression. Most recently, she appeared as "Karen" from Game of Thrones, her most-Wiig character effort yet.
Late night has always served well as a platform for comedians to show off their talents. Yet with the rise of YouTube and sharing on social media, it's almost imperative something big happens while a celebrity is doing promotional rounds. Fallon in particular turned his show into a hybrid of talk show, game show and sketch show, allowing for artistic freedom. Yet only a few, like Wiig, truly run with it.
Turning out this kind of performance in lieu of a typical interview for comedians is nothing new. Will Ferrell did this kind of thing before, while the late Robin Williams and Joan Rivers always treated TV appearances as stand-up showcases. Comedians have always been playful in this respect.
Wiig is using it to her advantage in a new, very 2015 way. She's aware that moments like these can go viral, and she is putting a conscious effort into standing out from her peers. Her refreshing late-night performances are a display of her immense talent and well of characters. She's turning would-be forgettable interviews into something entirely different: performance art.