Shaker Aamer Leaves Guantanamo Bay Prison After 13 Years in Captivity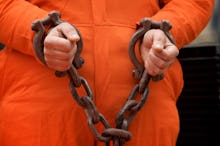 After 13 years of incarceration at the infamous Guantanamo Bay prison in Cuba, Shaker Aamer was released Friday and flown to London. Aamer, who is a citizen of Saudi Arabia and a registered British resident, was detained in 2001, transferred to the United States and imprisoned for having alleged ties to al-Qaida. His release is a long time coming, as Aamer's incarceration sparked widespread protests and hunger strikes by activists who believe he was falsely accused.
"We are, of course, delighted that Shaker is on his way back to his home and his family here in the UK," Cori Crider, Shaker's attorney and the strategic director of British human rights organization Reprieve, said in a brief statement. "It is long, long past time. Shaker now needs to see a doctor, and then get to spend time alone with his family as soon as possible."
The Pentagon first announced the decision to release Aamer in September, and British Foreign Secretary Philip Hammond confirmed Friday's transfer.
Per BBC News, there were no plans to detain Aamer upon his arrival at Biggin Hill Airport near London, where Aamer's family, including his four children, reside. 
Aamer's father-in-law, Saeed Siddique, addressed reporters at Aamer's family home in southwest London on Friday. "I won't be meeting him at the airport, it will just be lawyers," Siddique said, per the Guardian. "It was his wish. He said no one come to the airport except lawyers. It is a delightful day for all of us. It's really a miracle. But I have to say we never gave up hope that we would see him again."
According to a Department of Defense document published by the New York Times, the U.S. government believed Aamer worked for Osama bin Laden in Afghanistan and that the now-46-year-old aided al-Qaida with finance and recruiting operations as he was living in London. Aamer's supporters, Amnesty International among them, believe Aamer has suffered torture while in U.S. captivity. 
Here's a collection of photos of Aamer's advocates protesting for his release in London.