'Exorcism: Live!' Time, Channel and Live Stream Online for Destination America Special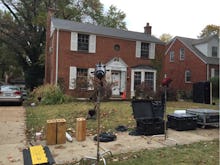 The TV channel Destination America will broadcast a live, authentic exorcism on Friday, because what better way to spread the Halloween spirit than to watch the evil spirit get sucked out of something? Key word: Something, not someone. In Exorcism: Live! the cleaning will be administered to the house where the true-life exorcism of Roland Doe was attempted more than 60 years ago, an event that inspired the 1971 book The Exorcist and its classic 1973 film adaptation.
How to watch: The minor rite exorcism (as opposed to a major rite exorcism, which is performed on a person) will air from 9 p.m. to 11 p.m. ET on Destination America and will also be live streamed online. Destination America encourages viewers to communicate about the exorcism through its Twitter feed using the hashtag #ExorcismLive.
The exorcism will be performed by "qualified professionals" who have "extensive experience investigating paranormal activity and talking to spirits on the other side," according to the website. 
What to expect: Producer Jodi Tovay told the Washington Post she's worried about people investigating a demon-infested house, calling it "dangerous." "The worst-case scenario is that one of these entities will attach to someone," Tovay said.
A clergyman, psychic and the network's Ghost Asylum squad of ghost hunters will enter the home and attempt to "cleanse it."
Six cameramen will join the paranormal experts inside the house and provide the live stream footage. "We can't fake it on live TV," Tovay told the Washington Post. "We can't fake evidence or pump in sound effects. The drama is unfolding right in front of you."
Destination America has been providing Twitter updates leading up to the event:
A camera in the attic of the house is already live.
Bishop James Long, who will perform the minor rite exorcism, tweeted it will be a "very serious event."
In a truly twisted turn of events, Destination America tweeted that Domino's Pizza has refused to deliver food to the house.
Hungering for more news from the great beyond? Check out Mic's "investigation" into the New York City seance circuit.