Trey Anastasio Album Release: 'Paper Wheels' Track List, Download and Streaming Options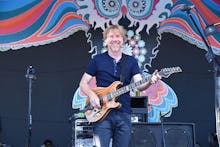 Phish frontman Trey Anastasio's album Paper Wheels was released Friday, featuring 12 new tracks from the guitarist and singer. It's the 10th solo studio album from the 51-year-old, and shows a "rapid evolution" in his musical projects, according to NPR.
Paper Wheels is available for streaming via NPR, Apple Music, Spotify and Tidal, and can also be downloaded via iTunes. 
With his latest release, Anastasio seems to have found a balance between his band, his solo music and his family. 
"My wife and I have been married 20 years and are starting this new phase, which is kind of fun!" Anastasio told Rolling Stone in June. "I rented a little studio in New York — a tiny, windowless space with garbage all over the place. It's my man cave. The last time I worked on my guitar rig was, like, 1989 ... every day I wake up, walk down the street, go to this room and lock myself in there for five hours a day. And I changed the kind of speakers that I use, and I got new tubes, and some new effects, so I'm like a little kid in there playing with my amp. It's what I do every day."
Below is the full track list from Paper Wheels, via NPR: 
1. "Sometime After Sunset"
2. "The Song"
3. "Never"
4. "In Rounds"
5. "Flying Machines"
6. "Invisible Knife"
7. "Lever Boy"
8. "Bounce"
9. "Liquid Time"
10. "Paper Wheels"
11. "Speak to Me"
12. "Cartwheels"
Check out NPR's First Listen of Paper Wheels here.