Brides Are Saying "No" to White Dresses — Here Are the Awesome Reasons Why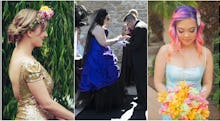 "As a feminist, there are certain things about weddings and marriage that don't sit right with me."
So said Freya, a magazine editor and music teacher from Melbourne. "The giving away of the bride, the woman changing her last name, the tossing of the garter... so we planned to have a fun-filled, colorful and modern wedding!"
She's not the only one. Yes, the many white dresses dotting your newsfeed are still the norm, and colored dresses only accounted for 4% to 5% of sales from retail giant David's Bridal, as of 2014, the New York Times reported. But more and more women like Freya are looking to wear something different.
"The majority of gowns I have sold this year are non-traditional," Portia Brady of the Etsy wedding shop TheodoraJames told Mic. "My brides lately have been going for deep burgundy red silks and satins, rich gold sequins, blacks, grays and sometimes just white or ivory sequins for a modern take on the traditional white wedding dress."
Celebrities may be the most visible wearers of colorful gowns (thanks, Jessica Biel and Gwen Stefani), and high-end designers like Vera Wang are leading the way. But David's Bridal also told the New York Times that sales of colored gowns have doubled each year since they were introduced in 2010. These are real women buying them — and their gown choices finally reflect the complexity of what modern women really want from clothes.
A dress that's local and personal: "Originally I was looking for a white dress, just figured I'd try some on and see what I thought," Amber, a plus-sized model from Winnipeg, told Mic. "I really didn't like the style. I woke up one day and said, 'You know, nobody told me that I have to be in white.'"
Once upon a time, red was the color of choice for brides. Queen Victoria is credited with changing the standard 175 years ago, when she made the then-ballsy move to wear white at her wedding to Prince Albert of Saxe-Coburg and Gotha. "The choice was almost as iconoclastic as it would have been for Catherine Middleton to walk down the aisle in scarlet," Time wrote.
Queen Victoria's dress also supported local businesses, as we would say today, by using only British-made materials. That's the same thinking, in fact, that led Kelsea, a Seattle-based jeweler, to look outside major bridal retailers for something different.
"I knew I would prefer to have it made by a dressmaker than going to one of the big stores and getting something that a lot of people have," Kelsea told Mic. Kelsea's blue silk gown was made by Wai-Ching, a Seattle-based company that focuses on eco-friendly bridal wear.
Indeed, the times are changing. Time reports that 46% of Americans disagree that women should wear white at the weddings. It's that changing tide that led Wai-Ching into the wedding business.
"I definitely didn't start out thinking I wanted to do wedding dresses, because if I were to think of wedding dresses in the beginning I would have thought, 'Ugh those huge cupcake-looking with beading and flowers,' which I would not be into," Chrissy Wai-Ching Leung, who founded Wai-Ching in 2004, told Mic. 
"It was my customers that made [wedding dresses] happen, because people kept asking, 'Would you do something in your aesthetic for a wedding dress?' Now I think [wedding dresses] are like 99% of my business."
Leung's clients also want their wedding dresses to be ethically and socially conscious, just as they would their other clothes.
"We make everything in house here in Seattle, and using natural fibers to be really eco-conscious," she said. "That's another part of my clientele — just brides that want to make a statement for being conscious with their wedding."
A dress that reflects the person wearing it: For Kelsea, who was married last month, her cultural background inspired her non-traditional wedding dress.
"I am Chinese by heritage. So I thought it would be cool to incorporate some Chinese element into the wedding," Kelsea said. "Since we went with mostly a packaged wedding deal to be stress-free, I didn't have a lot of choices on the other things. The dress was one thing that I could kind of control. Chrissy's work is just so beautifully inspired; she uses silk and Chinese-inspired styles."
That desire for a dress evoking the bride's heritage, whether it be through color or fabric or cut, seems like a no-brainer, but can be overlooked with pure white. For example, as the Cut noted in 2013, "In Eastern cultures, colors like red, gold and fuchsia symbolized good luck, while white was worn for funerals, so brides chose those vivid hues to ensure a prosperous union." 
Freya, also married in October, on a winery, chose a gold gown because she felt it jived more with her creative personality (and less-than-virginal status, like most brides') than traditional white would. 
"I pored over so many bridal magazines and just couldn't see myself in white," she said. "Obviously there are so many beautiful white gowns, but it just really wasn't me. For one, I'm not a virgin bride — ha, we've been living together for four years now. Secondly, I just love the idea of doing something a bit different!"
A dress that truly fits — in every sense: For Amber, the decision to wear a purple and black corset dress was in part due to the difficulty of shopping for bridal gowns for different body types. The challenge pushed her to think outside the box.
"I have Scheuermann's disease in my back. It gives me a curved spine," Amber said. "So on top of being a plus-sized, alternative person, and wanting something that no one else really had, I had to deal with this weird body shape that made me really unique."
As the number of plus-size shoppers finally gets recognized, Amber is in good company. Though plus-size brides often face more expensive gowns and a lack of selection, more designers are creating stunning plus-sized dresses for them, including an outpouring of custom-made options available on sites like Etsy.
The emergence of custom bridal shops on Etsy as well as dressmakers like Leung have ushered in a mindset that, ironically, echoes Queen Victoria all these years later: It's your day, and you can wear whatever the hell you want.
"I've actually never worn gold before, and it just made me feel really happy," Freya said. "Being happy on your wedding day is the most important thing. Whether you wear white or not, as long as the decisions you're making are for you and your partner, then that's all that matters."