Surfer's Body Found at Swami Beach in Encinitas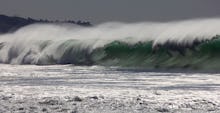 The body of an unidentified male surfer was found lying face-down in the sand at Swami's State Beach in Encinitas, California, on Friday morning, according to a death investigation press release from the San Diego County Sheriff's Department. 
Per the release, the department received a call at 5:10 a.m. Pacific to report to the beach, which is located in the North County region of San Diego County.
"When deputies and personnel from the Encinitas Fire Department arrived they located an unidentified deceased male adult who was wearing a wetsuit and still attached to his surfboard by the leash," Capt. John Maryon of the North Coastal Sheriff's Station said in the release. 
Responders pronounced the man dead on the scene at 5:40 a.m. Though technicians from the county's Medical Examiner's Office did not share an official cause of death, high surf in the region could have made conditions dangerous.
"If you're going to be going out surfing, swimming, it's always recommended by the lifeguards to go out with a buddy," Encinitas Lifeguard Capt. Larry Giles told Fox 5 San Diego. "Or you can go into an area that's frequented by other surfers, [so if] you run into a situation, there's someone there who can provide you aid and assist you back to the beach if you need help."