Zola's Florida Trip Costume is the Best Thing on Twitter This Halloween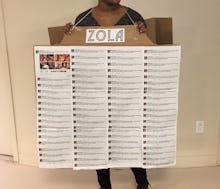 Every once in a while, a story circulates the Internet and earns a place in pop culture history. This week, that honor went to Zola: A woman who may or may not be real, and may or may not have had a wild, violent and unusually riveting experience on a trip to — where else? — Florida. 
Zola's 148-tweet story entered the annals of meme culture on Wednesday and was uploaded to Storify soon after. The story came just in time for a very important holiday: Halloween.
As the story became the talk of Twitter throughout the week, one innovative millennial decided to go a step further and transform it into a costume for the ages.
The costume was almost as massive of a success online as the original story, with nearly 4,000 times in fewer than 24 hours. The costume even received love from Zola herself, who retweeted the images and wrote, "BITCH, YAAASSSSSSSS!"
By Friday, it appeared others were catching onto the costume idea, with several users posting their own takes. Zola gained popularity through a series of tweets comparable to of a modern-day Homerian epic. Among the experiences the dancer tweeted about were the prostitution ring she joined for a single weekend, and the human-trafficking scandal she supposedly uncovered after joining a stranger on a trip to Florida to make money dancing at the clubs. 
Zola's story has inspired everything from hilarious memes to TV show talks — all of which will continue to live on the Internet forever, and rightfully so. In other words, Zola is forever. Zola is in all of us. Zola and her legacy are real, fictional or not.