An Online Petition Is Asking That Raven-Symoné Be Fired From 'The View'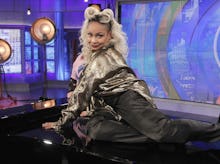 The View co-host Raven-Symoné has recently made headlines for voicing unsavory opinions on the show. Count among them: her Oct. 9 comment that she wouldn't hire someone with a ghetto "black" name, and her Oct. 28 assertion that the high school student who was physically assaulted by a police officer deserved it. Almost 100,000 people have signed a petition calling for her removal from the show. 
The Change.org petition, launched by user Che Scott-Heron, addressed to the show's co-creator Barbara Walters, implores Walters to fire Raven-Symoné, 29, insisting she's been "spouting her ignorant and self-hating spiel on The View for long enough." The page has more than 98,000 signatures and counting, with an ultimate goal of 150,000.
"African-Americans and black people around the diaspora need a voice representative of their views and not a voice representative of what white people want us to say," the petition reads. "We need strong black role models in prominent positions on television, and Raven-Symoné cannot provide that."
Twitter users are advocating the petition, urging others to sign: