The RNC Just Pulled the Plug on NBC's Next Republican Debate Because of CNBC's "Bad Faith"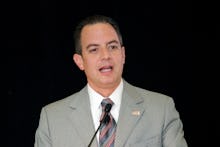 Following the third Republican primary debate Wednesday, the Republican Party has suspended NBC News' Republican primary debate, which was scheduled to take place Feb. 26, 2016, at the University of Houston. The GOP's decision comes after CNBC's moderators were criticized for the way they ran the debate. 
Reince Priebus, chairman of the Republican National Committee, announced the news in a letter to NBC News chairman Andrew Lack, which was then made public on the GOP's website Friday. 
"CNBC billed the debate as one that would focus on 'the key issues that matter to all voters — job growth, taxes, technology, retirement and the health of our national economy," Priebus wrote in his letter to the network. "That was not the case.... Questions were inaccurate or downright offensive. The first question directed to one of our candidates asked if he was running a comic book version of a presidential campaign, hardly in the spirit of how the debate was billed.
"While debates are meant to include tough questions and contrast candidates' visions and policies for the future of America, CNBC's moderators engaged in a series of 'gotcha' questions, petty and mean-spirited in tone, and designed to embarrass our candidates. What took place Wednesday night was not an attempt to give the American people a greater understanding of our candidates' policies and ideas."
After the news surfaced, some users on Twitter took issue with the GOP's decision.