Wyoming's Bighorn Mountain Crack: Images and What You Need To Know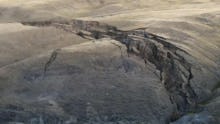 Mic/YouTube
A fissure 750 yards long and 50 yards wide has appeared in the Bighorn Mountain range, reports County10. The publication received a photo of the cracked earth from a reader, Brent Christopherson, who found the formation about 10 miles south of Ten Sleep, Wyoming, and estimated the fissure was less than a month old.
After curiosity began to mount on social media, SNS Outfitter & Guides, a hunting outfitter, asked an engineer to investigate.
"Since so many people have commented and asked questions, we wanted to post an update with a little more information," SNS Outfitter & Guides wrote in a Facebook post. "An engineer from Riverton, Wyoming, came out to shed a little light on this giant crack in the earth. Apparently, a wet spring lubricated across a cap rock. Then, a small spring on either side caused the bottom to slide out. He estimated 15 to 20 million yards of movement."
Seth Wittke, a geologist who manages groundwater and geologic hazards and mapping for Wyoming Geological Survey, said the formation was not unusual or alarming. 
"A number of things trigger them, [such as] moisture in the subsurface which causes weakness in soil or geology and any process that would weaken the bedrock or unstabilize it somehow," Wittke told the Powell Tribune.
One hunter, Randy Becker, from Casper, Wyoming, shared photos of the phenomenon on Facebook. "While hunting this past weekend in the Bighorns, we came across an awesome example of how our earth is not as stable as you might think," Becker captioned the post. "Awesome forces at work here to move this much dirt!"