Margaret Cho Just Took a Powerful Stand for the Rights of Sex Workers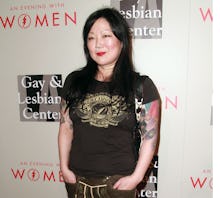 As an openly bisexual woman, the daughter of Korean immigrants and a survivor of sexual assault, comedian Margaret Cho has built her career around her ability to mine humor from her painful experiences on the margins of society.
But on Twitter last Thursday, while the rest of the Internet was still salivating over the (possibly fake?) Zola saga, Cho took the opportunity to talk about her experience as a member of one of the most marginalized — and least visible — groups of all: sex workers.
In a series of tweets, Cho opened up about her past as a sex worker, taking the position that, for her, sex work was a form of labor like any other:
At one point, Cho was asked by one of her followers if she felt exploited or abused as the result of doing sex work, or if she had trouble trusting other men. Her response? Nah:
One of the most insidious stigmas: Cho's tweets mark the first time that she has publicly addressed her past as a sex worker. ("No one asked!" she said on Twitter, in response to a follower asking her why she had never openly discussed it.) By publicly self-identifying as a former sex worker, Cho is shining a light on a highly stigmatized industry that's shrouded in myths and misconceptions.
Due to the stigma associated with the act of selling sex, as well as the fact that prostitution is illegal in most jurisdictions of the United States (with the exception of a few counties in Nevada), sex workers tend to be relegated to the margins, rendering them invisible and vulnerable to becoming victims of violent crime. In fact, according to one study, 82% of sex workers in the Bay Area have been physically assaulted while on the job.
While there has been a push among activist groups in the U.S. to decriminalize or legalize sex work (note: there's a huge difference between the two), such efforts have largely been for naught, thanks in large part to the widespread (and false) view that all sex workers are exploited or being trafficked against their will. 
While that might be the case for some former sex workers, many of whom have spoken about their experiences being beaten, abused and forced into sex work, such exploitation is not the case for those who enjoy their work and do it of their own volition.
"We should ... not conflate the sex industry with the abuses of human trafficking because it delegitimizes the workers and creates a moral panic that manifests itself in harmful legislation," adult performer Belle Knox, a.k.a. the "Duke porn star," wrote in an op-ed for Rolling Stone. "The fact of the matter is that most sex workers enter the industry via their own consent and genuinely enjoy their work."
"The fact of the matter is that most sex workers enter the industry via their own consent and genuinely enjoy their work."
There have been some strides in advancing sex workers' rights, such as Amnesty International's recent proposal to decriminalize sex work. But the stigma persists. In response to Amnesty International, celebrities like Anne Hathaway and Lena Dunham signed a petition arguing that decriminalization would reinforce global misogyny and female oppression. 
The gay escort agency Rentboy was also recently shut down, which was met with outcry among sex worker activists. "The Rentboy raid isn't about protection & the law," sex educator Francisco Ramirez tweeted at the time. "It's about homophobia, shame & denigrating gay sex (work)." 
As one of the few celebrities to publicly come out as a sex worker, Cho is not just giving voice to a marginalized community. She's also lending nuance to a narrative of an industry typically talked of in absolutes, reflecting the polarizing way we talk about sex in general. As her tweets highlight, sex work isn't merely a dichotomy of villains and heroes, or exploiters and the exploited. 
"Sex work is not 'eww' to me. You're basic for suggesting that," she wrote in response to a follower who accused her of being "basic and materialistic" for doing sex work.
"A basic bitch is simply that. Sex work is honest work."