Travis Scott and Kanye West "Piss on Your Grave" Video Just Released — Watch Here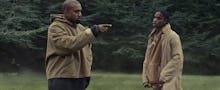 Travis Scott and Kanye West dropped a haunting video for the rappers' joint single "Piss on Your Grave" Friday, just in time for Halloween. The single is Scott's eighth track off his album Rodeo, which was released on Sept. 4.
The video, streaming exclusively on Apple Music, shows the two rappers walking through smoke-filled woods as a slow electric guitar rhythm begins to play. As West shouts lines from his verse, it appears as though his spirit is escaping his body. A third, unidentified person in a mask is behind the two as they rap, pulling his black mask further down his face, hanging from trees and encouraging each artist as they start to go wild in their lyrics.
The beat is entirely unique on "Piss on Your Grave," according to Scott. "Every beat on this album was made from scratch. Not one beat was sent in. Not one. I was involved with every beat," the rapper told Billboard in a September interview. And when it comes to West, Scott says the artist, designer and producer is extremely influential on his work in hip-hop. 
"He's like my stepdad," Scott told Billboard of West. "We always had that relationship where we cook up ideas. We [talk] all the time about random shit: life and how we can do better as people and as rock stars. Our goal is to help people figure out who they want to be."
Check out "Piss on Your Grave" below: