Adele at Radio City Music Hall 2015: Dates and How to Get Tickets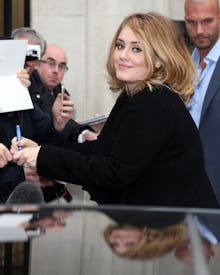 Update: Nov. 26, 2015 at 3:10 p.m ET
Adele has announced UK tour dates in 2016. For full dates and ticket info, head here. 
After Adele was crowned Queen of the Internet when the release of her first single in three years, "Hello," sparked a social media craze, the inimitable soul singer announced on Thursday that she will perform a one-night only concert at Radio City Music Hall on Nov. 17, just three days before she releases her long-awaited album 25.
The surprise concert will be filmed for a TV special, Adele Live in New York City, to air on NBC on Dec. 14, Rolling Stone reports. 
Tickets will be available next week, and those interested can sign up to receive updates about where and when to purchase them here. 
Adele will also be the musical guest on Saturday Night Live on Nov. 21, a day after the highly anticipated release of 25. In a viral Twitter post, the singer labeled 25 a "make-up" album as opposed to her previous album 21, which she called a "break-up" album — except this time it's about herself, not an ex-lover. "25 is about getting to know who I've become without realizing," she wrote in the long-winded Twitter post.
"Hello" broke the record for the most-watched video on Vevo in 24 hours with 27.7 million views, the Guardian reports. To put in perspective, that's 7 million more views than any Taylor Swift video ever received, who's unsurprisingly the previous record-holder. 
On Friday, Ellen Degeneres spoofed "Hello" along with Drake's latest hit "Hotline Bling" and Lionel Richie's 1983 "Hello," in which she pretends to receive unwanted calls from the three artists. The hilarious "phone call" transitions between the three songs. 
In the meantime, feel free to cry to "Hello" for the hundredth time: