Deadly Metrojet Crash Likely Malfunction, But ISIS Takes Credit Anyway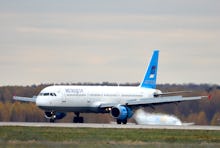 A Russian airliner traveling from Sharm el-Sheikh, Egypt, to St. Petersburg crashed Saturday in the Sinai peninsula, killing all 217 passengers and seven staff aboard.
CNN reports investigators are now trying to determine what caused the plane, an Airbus A321 with Russian airline Kogalymavia (Metrojet), to lose altitude and crash near the town of Housna approximately 23 minutes after taking off from the airport. The airplane disappeared from area flight control at around 6:20 a.m. local time.
According to the BBC, Egyptian officials claim the plane had successfully passed a pre-flight technical check, but pilots reported the aircraft was malfunctioning shortly before they lost contact with the ground.
The BBC also reported the region the plane disappeared in is currently a battleground between Egyptian security forces and Islamic insurgents, with al-Qaeda affiliates claiming responsibility for several terrorist attacks. New York Times reporter Liam Stack reported the Islamic State is saying its fighters shot down the plane in retaliation for a Russian bombing campaign in Syria, though it does not immediately appear they had the military capacity to do so.
The claim is being dismissed by officials from the U.S., Egypt and Russia, according to ABC's Jon Williams.