New Mexico Judge Threatens Burglar With Getting "Raped Every Day" in Prison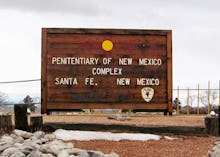 A New Mexico judge is drawing attention after threatening a burglar during his sentencing with repeated rape in prison.
On Tuesday, Judge Christina Argyres told a young, first-time offender named Isaiah Gay in Bernalillo County District Court that he would be a "bitch" in prison and "probably be raped every day" before sentencing him to probation, KOB 4 reports.
According to transcripts obtained by the news station, Gay told Argyres he had committed burglary because he was "impulsive" and "young and dumb."
Argyres responded by telling Gay, "Do you know what would happen...to a young, a dumb person in prison? Do you have any idea what would happen to you? You would probably be raped every day, for one. And I hate to sound like that, you know – rude, but that's exactly what would happen to you."
"Again, he's going to be somebody's – I hate to use the word 'bitch,' but that's exactly what he's going to be," Argyres added. "So I am willing to put him on probation."
The judge sentenced Gay to five years of probation, though he faces 15 years in prison for any violations of that probation.
As Gawker notes, the judge also told the court "the issue with residential burglary, again, it's almost like a rape, because it is such an invasion and such an intrusion of somebody's life and their property."
Rape in U.S. prisons is not some theoretical punishment, though, but an unfortunate reality of daily life.
In 2011, the Department of Justice estimated that 216,600 people were sexually abused in U.S. prisons in 2008, including over 17,000 juveniles. The figure included 69,800 people who were raped by force or threat of force, and 36,100 inmates otherwise coerced into nonconsensual sexual acts by means such as blackmail. 
"People raped behind bars cannot escape their attackers, though," David Kaiser and Lovisa Stannow wrote in the New York Review of Books. "They must live in constant fear, their trauma renewed every time they see their assailants. Between half and two thirds of those who claim sexual abuse in adult facilities say it happened more than once; previous [Bureau of Justice Statistics] studies suggest that victims endure an average of three to five attacks each per year."
The judge's comments also come as New Mexico Republicans are promoting tough-on-crime legislation. Earlier this year, the state house of representatives pushed for an expansion of the state's "three strikes" law, which mandates offenders found guilty of three violent crimes be sentenced to life in prison. According to the Albuquerque Journal, GOP representatives were considering adding crimes such as aggravated burglary or conspiracy to commit murder to the list of qualifying offenses.