Bill Maher, Who Has No Children, Blames Parents for Police Violence at Spring Valley HS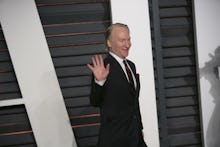 If you've seen the video of the school resource officer in Richland County, South Carolina, who grabbed a female Spring Valley High School student out of her desk and then slammed her to the floor, it's clear who's to blame in this situation: the girl's parents. 
On Friday night, Real Time with Bill Maher host Bill Maher suggested today's parents are the reasons that young children are getting dragged across schoolroom floors, the Daily Beast reports.
"I have sympathy for people in authority because I think parents just let kids do anything these days," Maher said to his panelists.  "Am I wrong? Parents aren't doing their job? It's overzealous policing and underzealous parents?"
Maher has no children and admitted that he based his opinions on interactions with children on planes, as well as seeing children on television and media.
One of Maher's guests, Rep. Maxine Waters (D-Calif.), quickly responded. "First of all, Bill, you're assuming these kids have parents," she said. "Some of them come from very difficult situations." 
The student in question, whose name has not yet been revealed to the media, is a foster child, according to the New York Daily News. 
Foster children in America face a slew of challenges that often leave them disadvantaged. According to the Indiana Youth Institute, of the 408,425 students in foster care in 2010, almost one-third of them have changed schools five or more times. Every time a student changes schools, their chances of graduating before leaving foster care diminish. 
Foster youth, many of whom age out and are ill-prepared for adulthood, also face challenges in finding adequate housing, basic income and health care. 
This is not the first time that Maher has blamed parents for systemic issues. In 2010, Maher fired back after a Newsweek article about the poor state of U.S. schools by blaming parents for the decline of education in the U.S.: