Sufjan Stevens Remixes Drake's 'Hotline Bling' for Halloween Concert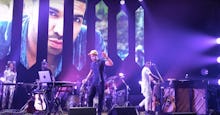 Drake's "Hotline Bling" got the Sufjan Stevans treatment on Halloween last night.
Spin reports Stevens was playing at Landmark Loew's Jersey Theatre in New Jersey when he launched into the cover, which features R&B artist Gallant on vocals. It's a pretty good, if somewhat impromptu version of Drake's song, which shot up to the second slot in the U.S. Billboard Hot 100 earlier this year.
Finally, Stevens' imitation of Drake's awkward-but-good dancing in the original "Hotline Bling" video is pretty much spot-on.
Earlier this week, Justin Bieber released his own remix of the song, which can be obtained by calling the number (231) 377-1113 or listened to below.