Paul Ryan Admits Republican Push to Defund Planned Parenthood May Not Be Realistic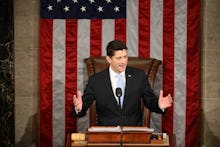 Wisconsin Rep. Paul Ryan, who was recently minted as the speaker of the U.S. House of Representatives, wants his fellow Republicans to maybe relax a little bit about the whole Planned Parenthood controversy.
In an interview with CNN's Dana Bash on Sunday's State of the Union, Ryan told the host he believed Planned Parenthood should not get one "red cent" in federal funding but reminded his colleagues "we need to be very clear about what we can and cannot achieve and not set expectations that we know we can't reach given the constraints of the Constitution."
"I don't think Planned Parenthood should get a red cent from the taxpayer. I've always believed that, even before these disgusting videos came out," Ryan told Bash. "But I believe we need to do our oversight. We're just beginning to start a committee to investigate Planned Parenthood. That's important. So the special committee on Planned Parenthood, I think, should be in the driver's seat overseeing this process."
"I think being an effective opposition party means being honest with people upfront about what it is we can and cannot achieve," he continued, adding that Republicans faced considerable "constraints," including a Democratic president and a difficult Senate.
According to the Washington Post, during the fiscal year that ended in June 2014 "Planned Parenthood affiliates around the country received $528.4 million in government funds (a combination of state, federal and sometimes local government dollars)" — approximately 41% of the organization's revenue.
Planned Parenthood currently does not receive any federal funding that can be used to pay for abortion services, and has not since at least 1976. The organization pays for those out of the remaining 59% of its budget, which comes from a variety of sources including private donors and fees for services. The vast majority of Planned Parenthood's reproductive health services are not abortions.
Republicans have targeted Planned Parenthood in recent months following the release of several heavily edited videos purporting to show officials from the nonprofit discussing the illegal sale of fetal organs. Eric Ferrero, Planned Parenthood's vice president of communications, told Mic in July that the video actually captured an official discussing "standard reimbursement fees for costs associated with tissue donation programs, which every health care provider has and which the federal law provides for."