AP Investigation Reveals Hundreds of U.S. Officers Fired for Sexual Misconduct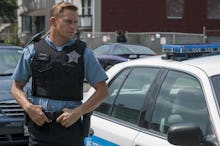 This weekend, a groundbreaking Associated Press investigation revealed that hundreds of police officers across the country have been fired and barred from working in law enforcement after they were suspected of abusing their power to commit sexual crimes.
According to the yearlong investigation, reporters were able to find roughly 1,000 officers from 2009 through 2014 who lost their certifications for allegations of sexual misconduct such as "rape, sodomy and other sexual assault; sex crimes that included possession of child pornography; or sexual misconduct such as propositioning citizens or having consensual but prohibited on-duty intercourse."
That number is "unquestionably an undercount because it represents only those officers whose licenses to work in law enforcement were revoked, and not all states take such action," according to the Associated Press, which could not obtain records from nine states and Washington, D.C. Some populous states, such as New York and California, do not even keep records of officers fired for misconduct. Other states that did not have data available included Hawaii, Massachusetts, New Jersey and Rhode Island. Minnesota refused to release names, while Oklahoma only offered records for officers who were actually certified.
The full report details a number of brutal assaults officers committed in cases over the six-year period, as well as the ways in which law enforcement officials were able to use their power to shut down investigations, avoid charges or get away with minimal punishment. In some cases, by surrendering their law enforcement certifications, accused officers were able to avoid prosecution entirely.
The investigation found 310 of the 990 cases involved victims younger than 18, while 154 cases involved sex with prison inmates, according to the Associated Press. Another 549 involved "allegations of rape, child molestation and other acts meeting the [Department of Justice] definition of sexual assault."
The Associated Press says its research corroborates previous research by Bowling Green State University's Phil Stinson and the Cato Institute, both of which detailed thousands of arrests of and complaints against officers accused of sexual misconduct.
A 2003 study in the St. Louis metropolitan area found that officers in 14 local departments judged such conduct to be common but unacceptable. In a paper published last year, Stinson wrote that the problem of sexual misconduct among officers is poorly known and understood because the "sexual nature of these offenses and the absence of official data have hampered study of the phenomenon."